business
How the Decline of Arranged Marriages Helps the Fight Against Poverty
More and more people around the world are getting married for the right reason
By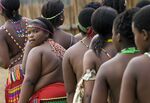 Among the most wonderful advances in global development over the past few decades is the growing acceptance of a basic human right: the idea that marriage is a covenant made between consenting adults in love, rather than coerced children in fear. Around the world, the age of marriage is getting older, which means the number of child brides is dropping. This is fostering the happiness of married couples. It also suggests that millions of children can look forward to better futures.  
According to official UN population data, more than seven out of 10 Bangladeshi women were married before the age of 19 in 1970.  That figure has dropped to 45 percent.  In India, the decline is from 56 percent in 1970 to 27 percent today.  In Tanzania, the rate dropped from  50 percent to 17 percent, in Indonesia, from 32 percent to 14 percent. Survey data suggest higher numbers than the official statistics do, but the trend is still in the right direction. Globally, the proportion of young women who were married before the age of 18 has dropped from a third to a quarter since 1985, and the proportion married before 15 has declined from 12 percent to 8 percent over the same period, according to UNICEF (PDF).
Being married at an older age tends to reflect greater freedom in whom one marries. Gabriela Rubio, an economist at the University of California, estimates (PDF) a 40 percent decline in arranged marriages across Asia and Africa in the 20th century, from about three-quarters of all marriages in those regions to considerably less than half. In Indonesia from 1940 to 1970, the proportion of marriages that was arranged fell from about one-half to about one-fifth. In Togo, the drop was from above 40 percent to around 20 percent from the 1960s to the 1990s. Unsurprisingly, India and Bangladesh, which are outliers in having high concentrations of child marriages, also stand as exceptions to the global trend away from parents making the marital choice. Around 95 percent of marriages in South Asia are still arranged by parents.
Rubio suggests that arranged marriages decline as education, formal employment, and urbanization increase.  She argues that arranged marriage acts as a type of informal insurance: Parents seeking spouses for their children choose prospects who come from families that face different financial risks—perhaps because they grow a different crop, for example. As communities get richer and the risk of catastrophic income loss declines, so does the institution of arranged marriage.
The global trend towards older marriages sealed by love, rather than parental handshakes, is not just good news for Cupid. It's a force for development in itself. Women who get married as children in India are considerably more likely to face violence from their partner. Child brides in Africa face a higher risk of HIV infection (in Kenya, 50 percent higher, and even greater than that in Uganda) and cervical cancer than do women who marry later. And while it is true that being in school protects against early marriage, the reverse causality also applies: Children who are married are extremely unlikely to be in school, with knock-on effects harming their earnings potential and the health of their own children. Child brides are also more likely to have children at a young age, increasing the health risks to both mother and child. The mortality risk for mothers giving birth is twice as high among 15- to 19-year-olds than it is among older women, and mortality risk for infants is 73 percent higher for the children of such young mothers.  
Waiting longer to get married has a powerful effect in favor of a better life, for both genders, especially for girls. Yet the problem of young marriage overwhelmingly affects females. In 2010, 52 countries still allowed girls under 15 to marry (with parental consent), which compares to only 23 countries that allowed boys to marry that young. While only two countries experienced more than 10 percent of boys less than 19 years of age getting married, according to the latest UN data, a tenth of the females were married before the age of 19 in 45 nations. Governments can accelerate the trend away from young marriage through legal reform and by offering incentives to change behavior. A number of countries have introduced conditional cash payments so parents will keep daughters in education through secondary school. A program providing cash to female orphans in Zimbabwe as long as they stayed in school reduced their marriage rates by 63 percent over two years.
The world has far to go to wipe out child marriages and forced marriages. And the freedom to marry a partner of either gender is a distant dream in places that have moved toward declaring homosexuality illegal. But the progress of the last few years suggests that marriage as an expression of love, rather than compulsion, may win out everywhere. The victory of romance over parental bargaining will be both sign and symptom of a better world.
Before it's here, it's on the Bloomberg Terminal.
LEARN MORE