Police Stopping Blacks on College Campuses Fuels Race Debate
John Lauerman and Chris Staiti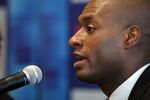 Anger over blacks' treatment by police took on a campus focus after a New York Times columnist said Yale University police held his son at gunpoint after mistaking him for a black burglary suspect.
Charles M. Blow said in an op-ed piece in the Times that his son, a third-year student at the Ivy League school in New Haven, Connecticut, was stopped Saturday evening after leaving the campus library. The officer brandished a gun and made Blow's son lie on the ground before asking for identification or telling him why he was being detained, Blow wrote.
"When I spoke to my son, he was shaken up. I, however, was fuming," Blow wrote Monday.
Elite colleges have been the scene of allegations of overzealous police actions in incidents involving race. Some black students and professors say interactions with law enforcement can be humiliating and frightening. Police say they are trying to make sure campuses remain safe. The dean of Yale's undergraduate college and the campus police chief apologized for the incident, Blow said.
Yale said it will conduct an internal review. The campus police officer, who is also black, stopped Blow's son because his clothing matched the description of the suspect, the school said.
City and campus police are more likely to see blacks as dangerous until proven otherwise, said Kiese Laymon, an associate professor of English at Vassar College who wrote a column last year for the Gawker website about his experiences being stopped by law enforcement.
'Keeps Happening'
"It keeps happening and I don't know what's going to stop it unless the nation changes and the institutions in the nation change," said Laymon, who has also detailed his experiences in "How to Slowly Kill Yourself and Others in America," a collection of essays. "As much as it's happening on campuses, it's happening even more outside college campuses."
Laymon said he recently served on a Vassar committee on inclusion on campus. The school, in Poughkeepsie, New York, is adding staff and training to ensure that all students feel welcome, said Jonathan Chenette, dean of the faculty.
Vassar is working to "make sure that the wonderful, talented, diverse students we've brought here feel included, challenged, rewarded and fully members of a community that values what they bring to us," he said in a telephone interview Monday.
Campus law enforcement officials have been leaders in forging bonds with their communities, and the vast majority of their interactions with students and faculty are peaceful, said David Perry, president of the International Association of Campus Law Enforcement Administrators, based in West Hartford, Connecticut. Officials work hard to avoid false accusations while trying to identify suspects, he said in a telephone interview.
Officers' Job
"The intent of the law enforcement official is to find that bad person who's doing something and to stop them from doing it," said Perry, who is also Chief of Police at Florida State University in Tallahassee. "It's a job that we have to do, and it doesn't always go perfectly."
In 2009, Harvard University professor Henry Louis "Skip" Gates Jr. was arrested on suspicion of forcing his way into a house that turned out to be his own home. The episode sparked a national debate that led President Barack Obama to invite Gates and the arresting officer to the White House for a beer.
Blacks and Latinos are more likely to be subject to traffic and pedestrian stops by police than are whites, according to the American Civil Liberties Union. Arrests leading to the killing of black men have led to protests in Ferguson, Missouri; New York City; and across the country.
The officer's use of a gun while detaining the student requires review, Yale President Peter Salovey said today in a joint statement by College Dean Jonathan Holloway and Yale Police Chief Ronnell Higgins. The incident was not a "replay" of tragedies in Ferguson and Staten Island, they said.
"The officer, who himself is African American, was responding to a specific description relayed by individuals who had reported a crime in progress," they said in the statement.
Yale Incident
At Yale, campus police responded to an emergency call at a dormitory after students reported a man entering rooms pretending to look for someone, a ruse for past burglaries on campus, Yale said in a statement. Students described the suspect as a tall, black, college-aged man wearing a black jacket and a red and white hat.
"During the efforts to locate and detain the suspect, a Yale College student, who closely matched the description of the suspect, was briefly detained and released by Yale police," spokesman Tom Conroy said in the statement. The real suspect was later caught and will be charged with felony burglary, he said.
Blow said he wouldn't have had a problem with his son being questioned "appropriately," if he matched the description of the suspect. He said the officer should have first asked for his son's identification and approached him without a drawn gun.
"This is the scenario I have always dreaded: my son at the wrong end of a gun barrel, face down on the concrete," Blow wrote. "I had always dreaded the moment that we would share stories about encounters with the police in which our lives hung in the balance."
Before it's here, it's on the Bloomberg Terminal.
LEARN MORE