Jindal Joins Push for Amendment Letting States Decide Marriage Laws
The governor of Louisiana emphasizes his socially conservative views after skipping the Iowa Freedom Summit.
By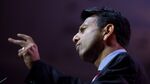 Louisiana Governor Bobby Jindal wouldn't let the Supreme Court have the last word on same-sex marriage.
The potential White House contender hopes the Supreme Court does not legalize gay marriage in an upcoming decision, he said in an interview airing Sunday on ABC's "This Week." But, he said, social conservatives like him could turn to a constitutional amendment if the court did rule in favor of gay marriage.
"I certainly will support Ted Cruz and others that are talking about making … a constitutional amendment to allow states to continue to define marriage," he said. "I believe that marriage is between a man and a woman."
As courts in several states struck down bans on gay marriage, Senator Ted Cruz of Texas said in October he would propose such an amendment.
As of Sunday, Louisiana is one of 14 states that do not issue marriage licenses for same-sex couples, according to the Human Rights Campaign, a gay-rights group.
Jindal skipped Saturday's Iowa Freedom Summit, a forum for Republicans seeking the 2016 presidential nomination to demonstrate their social-conservative credentials. At the summit, former Arkansas Governor Mike Huckabee in particular railed against gay marriage and said Americans should resist it, although other candidates were more circumspect.
Despite staying out of Iowa, Jindal said he is "seriously" considering a run for president.
"It's something I'm seriously looking at, praying and thinking about," he said.