Hey Mitt, Jeb, Bobby, Marco, and Rand: Here's What You Missed by Skipping the Freedom Summit
By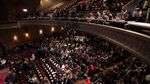 DES MOINES, Iowa—Nobody knew where the bat came from. Only a couple of people even noticed it. An hour after the wrap of the Iowa Freedom Summit on Saturday, as a few dozen reporters pounded out their stories and argued with absent editors, a winged rodent flew from side to side of the Hoyt Sherman Place's elegant ceiling.
"It's either a bird or a bat," said the messaging guru Frank Luntz, who was sitting on a theater set with his laptop open.
"Oh, it's bat," insisted Cameron Joseph, a reporter for the Hill.
The two of them debated which animal might be more dangerous, then returned to their subject: Who had won the day. (Luntz was impressed by Texas Senator Ted Cruz, while Joseph and most reporters saw a breakout for Wisconsin Governor Scott Walker.) Meanwhile, the bat swooped up to the nosebleeds, right where the Washington Post's Robert Costa was sitting.
"It's coming right at me!" said Costa, grabbing his laptop and folding it for the escape. He tromped down the stairs, while stagehands kept working and reporters kept typing, or editing, or uploading. After nine hours of conservative speeches, a confused bat was not really competing for the day's weirdness grand prix.
Now that it's in the books, the "unofficial kickoff of 2016" will shape how the overcrowded Republican field campaigns. Some commentators bracketed the event with stories about the absent candidates, like Florida Governor Jeb Bush. Yahoo News's Jon Ward contrasted the most frenzied applause lines from Des Moines with the speech Bush had just given to the National Automobile Dealers Association, calling for a "hopeful, optimistic message" in 2016. Politico's Roger Simon, who reported from the event, fretted about the GOP's "seriousness deficit" and a "clown van" that would allow fringe candidates to shape the Republican conversation. 
Over the long day, conversations with voters and conservative taste-makers suggested that they could tell the difference between kitsch and candidacies. Shortly before the 9 a.m. kickoff, only 10 hours after social media had been burning up about Sarah Palin's out-of-nowhere insistence that she was "seriously considering" 2016, an Iowan named Gary Chiero was already in his seat. He wore a red jacket, which he'd made himself, bearing the slogans "Palinman," "Palin Posse," and, more simply, "Palin." His citizen advocacy for Palin had led to multiple meetings with her and her family. He was ready to wait most of a day to see Palin speak.
"I believe she has a calling for times such as these," said Chiero, quoting from the Biblical story of Esther. "That doesn't mean she needs to run for president. 'Palinman' means the average man, and that's who she represents."

Palin's eventual speech, an occasionally scrutable collection of zingers and free association, was roundly derided online; it might as well have been delivered to Jon Stewart's writers room. What Palin said didn't matter as much as what Iowa Representative Steve King said in introducing her. Palin, said King, was "moving the political center to the right." Donald Trump fulfilled the same role, insisting that "half" of immigrants were criminals, and that Mitt Romney and Jeb Bush were equally unelectable.
They were moving the debate to the right. They just weren't being taken seriously as presidential candidates. Trump was mobbed in every corner of the Hoyt Sherman Place, with reporters and fans plying him for quotes. Trump allies distributed placards with photos of a young tycoon meeting President Reagan. When I asked to take a photo of one attendee's palm card, she happily gave it away, snarking that she wasn't going to frame it. In a press conference after his speech, after insisting that he'd gotten the "best ovation by far," Trump looked from the podium to the front row to find an unimpressed cameraman.
"What did you say?" asked the cameraman. "We were waiting for you up here."
"You must be kidding," said Trump. "I'm not doing the speech again." 

Some other Republicans who were making presidential noises, without necessarily organizing real campaigns, walked from interview to interview to interview. Former Virginia Governor Jim Gilmore's insta-junket was the most surreal, the return of a politician whose 2008 run ended long before the caucuses and is remembered, if at all, for him minimizing the party's then-frontrunners by calling them "Rudy McRomney." Gilmore, who left the presidential race for a disastrous 2008 Senate bid, got a lunchtime speaking slot and enough media requests that he could be seen ducking one as he raced to a radio stand-up. When his speech was over, he made a beeline for a group of reporters to whom he confirmed his interest in 2016 and talked about his qualifications.
"Chairman on the national commission on homeland security for terrorism, visited 18 countries as governor, on trade issues," said Gilmore. "Visited Pakistan and Israel, too." Asked whether his Senate bid wrecked his credibility, he said, "It certainly wasn't helpful to be in the middle of the Obama wave campaign." (Gilmore lost the election by 1.1 million votes while John McCain lost to Barack Obama by 234,000 votes.)
Candidates (or "candidates") like Gilmore added to a sense that the event, which attracted 1,200 conservative activists, might have been overrated by the press. That wasn't a fair way of reading it. The event, co-sponsored by Citizens United and Tea Party Patriots (whose founder had to cancel her speech after a death in the family), introduced new stars to GOP voters while allowing the conservative movement to set the terms of debate. One of the radio stops that every speaker was encouraged to make was a simple camera-and-recorder set-up where the Des Moines-based Steve Deace and his producer asked six basic questions. They were pared down because the video camera was recording responses for the Iowa FAMiLY Leader, a social-conservative group that would hold its own summer cattle call. The questions:
1. What do you think sets you apart from the other potential candidates in the race?

2. Tell us about your staff. Why did you choose to hire them? Where have they worked previously? What should voters conclude about you from your choice of staff?

3. Does erotic liberty trump religious liberty?

4. If you win the presidency, who loses? (Would anything get cut, would anybody get fired, who would be disappointed by having you in the White House, etc.)

5. When have you stood with the conservative grassroots against the ruling class? Why did you take that stand?

6. What will you do about the impending Supreme Court marriage case if it goes against state constitutions?
Being absent, Romney, Bush et al didn't have to go on the record about any of this. That could mean they avoided the questions; given recent history, it more likely means that the center will move to the right and they'll have to adjust to conservative expectations when they come to Iowa. The contenders who made themselves available to reporters after their speeches, a group that included every possible 2016 candidate minus Walker, former Texas Governor Rick Perry, and New Jersey Governor Chris Christie, found themselves answering questions about the state-driven educational standards of Common Core. Former Arkansas Governor Mike Huckabee used the opportunity to explain that some comments he'd made in the past about the potential good of educational standards did not refer to the hated Common Core.
"Common Core is a disaster," said Huckabee. "It should be killed off."
Many attendees, when asked about the Bush run, cited Common Core as a reason to oppose him. Cruz (accompanied by new political hires, which removed any doubt that he was getting closer to a run), happily tore into the standards and warned potential rivals that "talk is cheap" when it comes to proving one's conservatism.
Luntz, shortly before he spotted the bat, explained just what the Common Core obsession meant for the right. When he asked voters generically about the idea of national education standards, they backed them by a 3-1 ratio. When he asked about "Common Core," only 30 percent of them backed it.
The hardening conventional wisdom of the weekend was that Walker won it, that the repeat candidates (including Huckabee) didn't convince the voters to fall in love again, and that the guys who missed this event missed a clown show. All of that might be true. The event still reminded Republicans that the issues their base will care about, and drive them on, may not be the ones they prefer to debate. If they think they've got the money and the right support lined up, there's nothing stopping a bat flying from out of nowhere, into their faces.