Alaska Republicans Go Ballistic on Obama After ANWR Decision
The president's move to protect more of the refuge from oil drilling has Republican officials in the state fighting mad.
By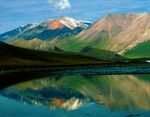 Those are fighting words.
President Barack Obama's decision to ask Congress to designate parts of the Arctic National Wildlife Refuge as a wilderness area, putting the land off-limits for oil drilling, is not going over well with Republicans in the state, to say the least.
Obama's plan, which the administration unveiled on Sunday, would protect 12.28 million acres in addition to the 7 million acres already designated as wilderness, according to the Department of the Interior. It comes amid falling oil prices that have left Alaska's economy on shaky ground.
In a video address, Obama made no mention of the economic impact the move could have on the state, and focused instead on the need to protect what he called a "pristine" environment. 
The calming chords of the acoustic guitar in the video's soundtrack had hardly died out before Republicans raised their voices in opposition to the plan:
Representative Don Young
Senator Lisa Murkowski
"It's clear this administration does not care about us, and sees us as nothing but a territory," Murkowski said in a statement. "The promises made to us at statehood, and since then, mean absolutely nothing to them."
Murkowski, chair of the Senate Energy and Natural Resources Committee, likened the Obama administration to a geopolitical foe. 
"I cannot understand why this administration is willing to negotiate with Iran, but not Alaska, she said. "But we will not be run over like this. We will fight back with every resource at our disposal."
RELATED: WHITE HOUSE TELLS MURKOWSKI TO CHILL OUT ON ANWR
She added on Twitter:
Senator Dan Sullivan
The freshman called the move an act of "war on Alaska's families," according to Alaska Dispatch News.
"We will defeat their lawless attempt to designate ANWR as a wilderness, as well as their ultimate goal of making Alaska one big national park," he said. "This decision disregards the rule of law and our constitution and specifically ignores many promises made to Alaska in ANILCA. It is just one more example of President Obama thumbing his nose at the citizens of a sovereign state—and will put Alaska and America's energy security in serious jeopardy."
Governor Bill Walker 
Alaska Governor Bill Walker, a longtime Republican who was elected on a unity ticket as an independent in 2014, said Obama's plan would spur him to action. 
"I will consider accelerating the options available to us to increase oil exploration and production on state-owned lands," he said, according to ADN. "This further underscores the need for Alaska to become a participant in the infrastructure development for the benefit of all North Slope participants and the residents of Alaska."