Europe's Bonds Surge as ECB Buying Plan Sends Yields to Records
Lucy Meakin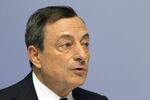 The European Central Bank's unprecedented bond-buying plan crushed euro-area yields this week as investors jostled to get hold of government debt before the purchases begin in March.
For the first time on record, Italy's 10-year borrowing costs fell below 1.5 percent, and yields set all-time lows across the region, with the biggest moves coming from longer-maturity bonds. While Spain's 10-year yield fell as low as 1.249 percent on Friday in London, Commerzbank AG says it will continue dropping as far as 1 percent in the first quarter as investors seek higher-yielding assets. Pacific Investment Management Co. said there are few reasons to sell the securities at these levels.
ECB President Mario Draghi said Thursday the central bank will buy 60 billion euros ($68 billion) a month of public and private debt until September 2016 to revive inflation in the region. Lower bond yields may help revive the economy by encouraging banks to make commercial and residential loans.
"You have to give credit to the man because once again Draghi managed to exceed what were already high expectations," said Michael Leister, a senior rates strategist in Frankfurt at Commerzbank, the top-ranked primary dealer for German bonds by the nation's debt agency. "Everything is rallying and at this stage we think it will go further."
Italy's 10-year yield fell 13 basis points, or 0.13 percentage point, this week to 1.53 percent as of 5 p.m. London time on Friday, when it touched 1.413 percent, the lowest level since Bloomberg began collecting the data in 1993. The 2.5 percent bond due in December 2024 rose 1.215, or 12.15 euros per 1,000-euro face amount, to 108.91. The nation's 30-year yield dropped to a record 2.526 percent on Jan. 23.
Yields Slide
Rates across the region tumbled after Draghi's purchase plan sparked fresh demand for the securities investors shunned during the debt crisis. The average yield to maturity on euro-area government debt dropped to 0.6838 percent after his Jan. 22 announcement, the least since at least 1995, according to Bank of America Merrill Lynch indexes.
The additional yield investors demand to hold Spanish 10-year bonds over equivalent-maturity German bunds was at 101 basis points on Friday, having narrowed four basis points this week, and down from as much as 650 basis points in July 2012. Italy's 10-year yield spread was at 117 basis points, from as wide as 575 basis points in November 2011.
'Performed Well'
"Peripheral government bonds have performed well in the past but we see few reasons to part with them," Andrew Bosomworth, Pimco's head of portfolio management in Munich, wrote in an e-mailed note. "Yields on longer-maturity Italian and Spanish government bonds offer a non-insignificant pickup over similar maturity bonds from Germany."
The ECB's monthly purchases will probably comprise about 45 billion euros in investment-grade government bonds maturing between two and 30 years, as well as the debt of public agencies and existing programs to buy asset-backed securities and covered bonds, a euro-area official said Jan. 22.
"The program the ECB announced yesterday is relatively large in terms of types of assets and also the maturities to be purchased," said Patrick Jacq, a senior fixed-income strategist at BNP Paribas SA in Paris. "This is clearly supportive for all euro-area government bonds and favorable for a flatter curve."
A yield curve is a chart of rates on securities of varying maturities. The yield premium between Spanish two-year notes and 30-year bonds dropped to as little as 205 basis points on Friday, from 357 basis points a year earlier.
Germany's 10-year yield fell to a record 0.345 percent on Jan. 23 and the 30-year rate slid to within one basis point of 1 percent. The nation's two-year yield touched minus 0.183 percent, also an all-time low.
All German government debt due in five years or earlier yields less than zero. A negative yield means investors buying the securities will get less back when the debt matures than they paid.
Euro-area sovereign securities returned 14 percent over the year through Jan. 22, according to Bloomberg World Bond Indexes. U.S. Treasuries gained 7.2 percent and U.K. gilts 17 percent in the same period.
Before it's here, it's on the Bloomberg Terminal.
LEARN MORE