Zambian Ruling Party Candidate Lungu Leads Presidential Vote
Matthew Hill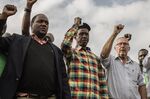 Zambian ruling party candidate Edgar Lungu is leading the presidential election with 50.8 percent of the vote to 45.1 percent for his main challenger, Hakainde Hichilema, with ballots from more than half the constituencies counted.
About 34.2 percent of the registered voters cast ballots in the 90 of the 150 constituencies counted so far in an election that started Jan. 20 and was hampered by heavy rains, the commission said at a press conference Thursday in Lusaka, the capital.
Lungu, a 58-year-old lawyer who serves as justice and defense minister, has pledged to continue the polices of Michael Sata, who died in office in October, aimed at helping the poor and building infrastructure. Hichilema, a 52-year-old economist and businessman commonly known as HH, has portrayed himself as an economic manager who will create jobs.
The victor, who'll lead Africa's second-biggest copper producer until September next year when normal elections are scheduled, inherits a slowing economy and a currency that was Africa's second-worst performer last year. The new president will also be faced with finding a solution to a standoff with the mining industry over a new tax system amid slumping copper prices.
Lungu Victory
"Although early results do not give Lungu an insurmountable lead, they do indicate that he has retained a majority in the Patriotic Front's traditional support bases of the Copperbelt and Northern provinces," said Barnaby Fletcher, an analyst at Control Risks in London. "Given the electoral importance of these areas, as well as a low turnout suggesting that Hichilema has failed to mobilise voter dissatisfaction elsewhere, a Lungu victory appears the most likely outcome."
Observers from the 15-nation Southern African Development Community, or SADC, called the election "peaceful, transparent, credible, free, and fair," in a statement Thursday.
The kwacha strengthened 0.6 percent to 6.4297 per dollar by 17:45 p.m. in the capital, paring its 2015 decline to 0.7 percent.
"We still have another 60 constituencies," electoral commission director Priscilla Isaac told reporters Thursday. "I believe that with Zambian Air Force doing the roundup I believe we will get more in before another briefing tonight."
Hichilema met Wednesday with the electoral commission and told reporters afterward that the ruling Patriotic Front party had carried out "clear acts of violence which obviously frightens off voters."
Violence Allegations
PF spokesman Emmanuel Mwamba denied the allegation.
"They are the ones that were protesting on the streets, they are the ones that declared themselves winner," he told reporters in Lusaka.
Zambia's economy grew 5.5 percent in 2014, its slowest rate in 12 years, according to the International Monetary Fund. Finance Minister Alexander Chikwanda said the real figure was 6 percent. Almost two-thirds of Zambia's 15 million people live on less than $1.25 a day, according to the World Bank.
The government increased charges on miners last year, leading Barrick Gold Corp., the biggest producer of the metal, to say it will put its Lumwana mine under care and maintenance. Glencore Plc and Vedanta Resources and First Quantum Minerals Ltd. also operate in the country.
While Hichilema has said he'll scrap the new system and introduce one that ensures mines pay fair taxes, Lungu said he would hold talks with companies if he wins the vote, the Financial Times cited him as saying Jan. 20 in an interview.
Before it's here, it's on the Bloomberg Terminal.
LEARN MORE