Redneck Tycoon: Jonah White, Maker of Billy Bob Teeth
By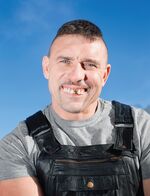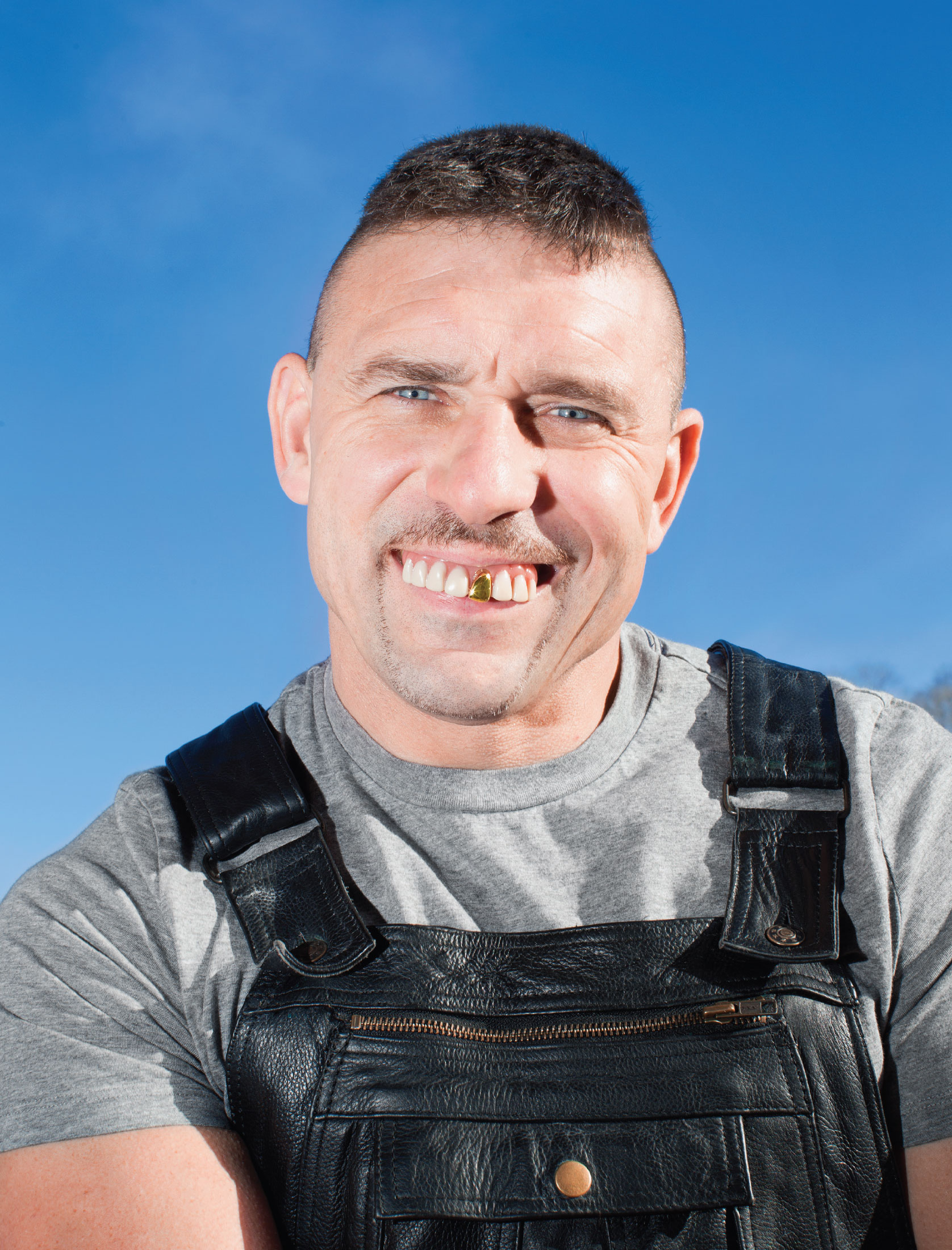 Jonah White was at a college football game in 1994 when he saw the product that would make him a millionaire. There, in the stands, a Southern Illinois University dental student named Rich Bailey was hamming it up with a set of realistic-looking hillbilly teeth, fabricated in his school's lab. The contraption, which slipped on like a mouth guard, made Bailey's gums look disgustingly decayed, with several bicuspids barely holding on. White would eventually learn that making prank dentures was common among dental students. But at the time, as Bailey drew a small crowd, White recognized this as his opportunity. He persuaded the dentist-in-training to go into business making and selling silly, fake teeth for $20.
Twenty years and 15 million sets of teeth later, White is one of the most successful novelty-gift makers in America. (Bailey left the company on good terms in 1999 to practice actual dentistry.) White's company, Billy Bob Products, makes more than 250 different gag gifts. There's a series of baby pacifiers affixed with gross molars, tongues, and mustaches ($3.50 to $8) that sold 5 million units at mom-and-pop stores and chains such as Wal-Mart and a Russian-roulette-style revolver ($25) with a shot of alcohol in the loaded chamber that's a best-seller at Spencer Gifts. White's also got a growing catalog of private-label products—cheaper fake teeth, stunt glasses with noses, and so on—that he produces for national retailers such as Walgreen and Party City.

In his best year, 2000, he did $7 million in sales, thanks to an exclusive license for Austin Powers merchandise. This year, for the first time, he says he'll exceed that. "I think everybody gets bamboozled by his shtick, but he's a brilliant man," says Mario DiPasquale, co-owner of Play Visions, which supplies gift shops around Seattle. "He really knows his market."
White's target demographic isn't actually people in need of dental insurance. Rather, by tapping into the same audience that watches Duck Dynasty (which did $400 million in licensing in 2013), Hillbilly Handfishin', and Here Comes Honey Boo Boo, Billy Bob has become the unofficial gearmaker for the redneck voyeur. Initially, White stood out because his hillbilly products were "better quality" than what existed before, DiPasquale says. But today, they're often picked up by fans who also wear trendy camouflage clothing bought at Urban Outfitters or Cabela's, a thriving national outdoor retailer. In that way, White's aesthetic was 20 years ahead of its time; he's spent more than $1 million fighting off trademark violations and copycats since he started the line.
Last fall, when Duck Dynasty's ratings were falling, the Discovery Channel gave White his own show. On Billy Bob's Gags to Riches, aspiring inventors come to Calhoun County, Ill. (population, 5,000; stoplights, zero) to pitch goofy gifts in front of a four-man panel, Shark Tank-style. With his Windex-blue eyes, pencil-thin goatee, and military-style haircut, White is a great host. Which is no surprise, since the show was his idea. He commissioned his own pilot, then shopped it around to networks until Discovery bit. "We are always on the lookout for big, interesting characters, and Jonah is that," says Discovery Executive Producer David Pritikin. "He basically epitomizes the American dream, in quite the colorful way." In its first season, the show averaged 1 million viewers per episode, according to Nielsen.

On one recent episode, an inventor pitched "the genuine smell of death" in a spray bottle, while a volunteer undertaker demonstrated a device for hanging flowers on gravestones. Neither product passed muster with White and his fellow judges: Joe Wilson, a former cartoonist who's head of product design at Billy Bob; Greg Bulcher, an avid outdoorsman White met in the local bait shop; and "Moo Moo," a chubby former comedian who "understands what appeals to a redneck's eye."
Once or twice an episode, White agrees to bring a product to market—as was the case with the $12 Mason Muggy, a sippy cup for toddlers made from a jar. Every deal's negotiated independently, and most times White doesn't buy the intellectual property, because he wants the original creator to stay involved. "The people who invent these things are often the best salespeople," he says.
The cameras follow him off-duty, too, because White recognized that the public seemed to like watching rednecks at leisure. In 2001 he took a yearlong hiatus from the company to build a 7,500-square-foot log castle—heated by burning wood cut from his 700-acre property—that he shares with his wife, an Australian he refers to exclusively as "Honey Buns," their four kids, and an ever-growing menagerie of pets. As of November, it included a black bear, a bobcat, a red fox, several water buffaloes, an aviary full of birds, an African tortoise that free-ranges around the house, and a quasi-domesticated timber wolf that White saved from a kill shelter.
"My goal growing up was to be just like my father," he says. His dad, a Stanford University-trained anthropologist, called himself Five Bears and adopted a fully native lifestyle despite being only a quarter American Indian. "I wanted to live in a home that I built in the woods and skin animals," White says. "But as I got older, I realized I wanted a flush toilet. I wanted to take my wife and kids to see the Great Wall of China. I couldn't do that if I was chasing squirrels with a spear."
Before starting his company, White did try living in a man-made cave, which he and his dad dug from a hillside. He'd graduated from Missouri State University in 1992 as the all-time leading rusher on the football team but wasn't drafted by the NFL, so he moved home to his parents' backyard. It was in this cave, while sleeping on a buffalo skin, that he realized he didn't want to move to a city and work for a corporation. A few months later, he met Bailey.
For the first two years of Billy Bob, White worked exclusively out of his parents' cabin, manufacturing teeth in a makeshift lab in the attic. He injected plastic and enamel into a mold, just as a lab produces dentures, and took orders over an 800 number that went to an answering machine on his dresser. His mom kept the books. By the time he moved out in 1998, the company was doing $2 million in annual sales of a single product.
When it came time to outsource, he taught 10 locals to use his mold and work from their homes. Then White found a factory in Taiwan that could begin mass production of the teeth as well as fabricate prototypes for additional products. He now owns that factory. It makes almost everything in the Billy Bob line.
The company now manufactures dozens of varieties of the teeth, including a special series made in collaboration with the singer Miley Cyrus. Last summer, White's mother-in-law saw Cyrus wearing a set of Billy Bob teeth in a magazine, so he reached out to the singer's camp, and she was receptive to the idea of a co-branded line. The partners split sales evenly. When he heard last year that coyotes had eaten Cyrus's dog, he offered her a potbellied piglet born on his farm. "At first she was hesitant—but this is Miley Cyrus we're talking about," White says. "She's a huge rock star, but deep down she's a little country girl from Nashville." The pig is now a regular in celebrity tabloids.
Next summer, White plans to get into the apparel business. He's designing overalls, called Billy Bob Bibs, inspired by the ensemble he wears daily. "Overalls happen to be my trademark and my trade dress, literally," he says. "They're my Armani suit." Unlike Dickies or Carhartts, White will offer just four sizes, with elastic waists and one "average" inseam. "If it's too long, take a knife and cut it off," he offers. "It's Billy Bob, high-water stuff!"
Before it's here, it's on the Bloomberg Terminal.
LEARN MORE