Why Obama's New Best Allies on the Hill Are CEOs
Facing a tough fight on trade, the president taps corporate leaders.
By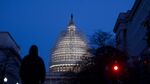 Before President Obama leaves office, he wants to complete two major free-trade agreements, one with Asian nations and the other with the European Union. To do it, he says he needs a guarantee from Congress that it will simply vote yes or no on any deal the White House offers, without trying to amend it. "I'm asking both parties to give me trade promotion authority to protect American workers with strong new trade deals from Asia to Europe that aren't just free, but fair," Obama said in his State of the Union address.