Goldman Said to Award Blankfein $24 Million in Stock, Cash
Michael J. Moore and Dakin Campbell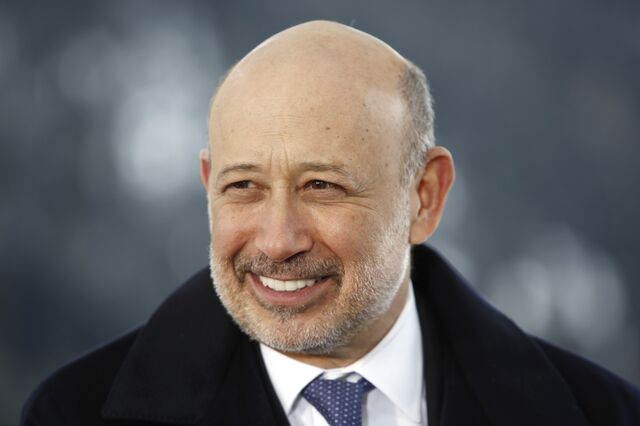 Goldman Sachs Group Inc. awarded Chief Executive Officer Lloyd C. Blankfein $24 million in salary and cash and stock bonuses for 2014, according to a person familiar with the matter.
Blankfein, 60, who also serves as chairman, received restricted shares valued at $14.67 million on Jan. 20, half of it tied to performance requirements, the New York-based company said Thursday in a filing.
While Blankfein typically receives about 30 percent of his total bonus in cash, the ratio is slightly higher for his 2014 award, a person with knowledge of the payout said, asking not to be identified because it hasn't been announced. On that basis, the cash portion is about $7.33 million. He also receives a $2 million annual salary.
Goldman Sachs maintained a return on equity of 11 percent for a third straight year by paying employees a smaller share of revenue in response to trading declines. While the measure of profitability was higher than at many Wall Street rivals, it was about half the average Goldman Sachs earned between its initial public offering and the financial crisis. The stock rose 9.4 percent in 2014 and has more than doubled since 2011.
Chief Financial Officer Harvey Schwartz, 50, and President Gary D. Cohn, 54, each received restricted shares worth about $13.4 million, according to separate filings. Vice Chairmen Mark Schwartz and John S. Weinberg got shares valued at $11.4 million and $11.1 million, respectively.
Pay Record
A year ago, Blankfein also got a $2 million salary and a $6 million long-term incentive tied to performance targets. Any long-term incentive this year typically would be disclosed in the months ahead.
Including the long-term incentive, Blankfein's total compensation a year ago amounted to $29 million. The package was his biggest since he set a Wall Street pay record of $68.5 million in 2007, his first full year as CEO. He took no bonus for 2008 after the financial crisis hit.
James A. Johnson, the former head of Fannie Mae and the longest serving member of Goldman Sachs's board, leads the compensation committee. The New York-based company won approval from 83 percent of shareholders for its compensation plan at the last annual meeting in May.
Before it's here, it's on the Bloomberg Terminal.
LEARN MORE