Family Dollar Holders Accept $8.81 Billion Dollar Tree Bid
Matt Townsend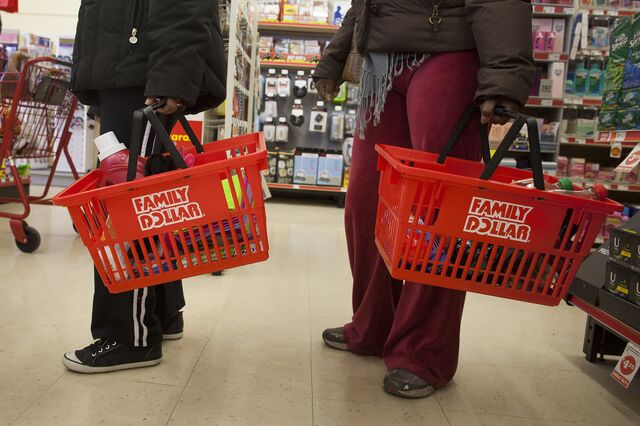 Family Dollar Stores Inc. shareholders approved an $8.81 billion takeover offer from Dollar Tree Inc. after a six-month battle, spurning a higher offer from Dollar General Corp. that they considered too risky.
The vote was announced at an investor meeting in Charlotte, North Carolina, on Thursday morning. Family Dollar's management had argued that Dollar Tree's $77.05-a-share offer was more likely to win regulators' approval than Dollar General's $80-a-share bid.
Dollar Tree's purchase of Family Dollar, which still needs a signoff from the U.S. Federal Trade Commission, would create the largest U.S. dollar-store chain, with about 12,000 locations. Dollar General had sought to keep its status as the category's biggest operator with its own bid but failed to convince shareholders that it would win approval from the FTC.
"It's a terrific outcome, even though it was painful getting here," Family Dollar Chief Executive Officer Howard Levine, whose family founded the company, said today at the meeting. The deal is likely to close in March, Levine said.
Shares of Family Dollar, based in Matthews, North Carolina, rose 1.2 percent to $76.44 at the close in New York. Dollar Tree climbed 3.6 percent to $70.25, while Dollar General advanced 3.8 percent to $69.77.
Closer Competition
Dollar General more closely competes with Family Dollar, meaning its proposal faced greater scrutiny and may have required the combined company to sell more locations. As part of its acquisition proposal, Dollar General agreed to divest 1,500 locations, a number Dollar Tree said was unrealistically low. Dollar Tree said its own bid would require selling fewer than 300 locations.
Speculation that Chesapeake, Virginia-based Dollar Tree would prevail increased last week when Institutional Shareholder Services Inc., an influential proxy adviser for large investors, recommended accepting the offer because of its "near certainty" of closing. ISS also said that Dollar General's "near-silence" on the regulatory process raised concerns. Goodlettsville, Tennessee-based Dollar General said it needed more time to get the FTC to approve its deal.
The Dollar Tree deal has "grown more certain," while the FTC's approach to reviewing the deal "appears unfavorable" to Dollar General, Taylor LaBarr, an analyst at Stifel Financial Corp. in Washington, wrote in a note last week.
Keeping Name
Under the terms of the Dollar Tree deal, Family Dollar locations will keep their name. Its headquarters will stay in the same place, and workers there shouldn't be worried about their jobs, Levine said in a press conference after the vote.
The combination may not result in as many job cuts as the alternative because the chains have different business models and merchandise assortments. Family Dollar sells products at multiple prices and caters mostly to low-income shoppers. Dollar Tree, in contrast, attracts more middle-class consumers and sells most items for $1.
While Dollar Tree CEO Bob Sasser will lead the new combined company, Levine will stay on and run the Family Dollar chain. That arrangement drew criticism last year, with Dollar General CEO Rick Dreiling suggesting in a letter that part of Levine's support for the lower offer from Dollar Tree stemmed from his desire to keep his job.
'Completely False'
Levine said today that it's "completely false" that he pushed for the Dollar Tree deal to preserve his position. He also pointed out that, as Family Dollar's largest shareholder, he would have made more money with the higher offer from Dollar General.
"It wasn't about me or my family," said Levine, who owns about 7.7 percent of Family Dollar. "It was about our shareholders."
Before announcing the vote, Levine reiterated the company's stance that the Dollar Tree proposal would have a much easier time getting approved by the FTC than Dollar General's offer.
"This, by far, is a superior deal," Levine said.
Dollar Tree is buying a chain that saw its business deteriorate further during the takeover battle, which began with Dollar Tree's offer in July. Profit fell 47 percent in the quarter ended Nov. 29, and same-store sales declined in four of the past five quarters. The chain, which operates about 8,000 stores and generated $10.5 billion in sales in the past 12 months, has struggled with a shift in strategy from periodic promotions to everyday low prices.
Before it's here, it's on the Bloomberg Terminal.
LEARN MORE