Facebook at Work Is Late to the Office
By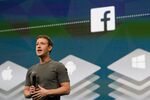 Facebook is making a play for the office. On Jan. 14 the social network unveiled a corporate version of its website and app, Facebook at Work, which ditches travel pics and kitten videos in favor of memos and project updates. There are no ads, and the company says it won't use the platform to track activity or connect people's business profiles with their personal ones. "We've used Facebook for years now as a very powerful tool to get work done," says Lars Rasmussen, the engineering director of Facebook at Work, who's testing the product with a few hand-picked companies. "Our experience of using it for almost all internal communications shows that it's more efficient than anything else out there."
Leaving aside the question of whether IT managers will trust a company notorious for testing privacy boundaries, Facebook at Work faces a number of major hurdles as it makes its way into the market. First, it's late to the office party. Microsoft, Salesforce, and a host of startups have a jump of several years on social networks for the office. Second, Facebook at Work doesn't offer any new features to set it apart from rivals or even its consumer version. The company has done little to address the problems of information overload and plain old awkwardness that often accompany internal social networks. "There is a risk that these get very noisy and you get distractions instead of solutions to whatever you're trying to accomplish," says John Hagel, co-chairman of Deloitte's Center for the Edge, a research group that studies business technology.

It's easy to see why Facebook would want a piece of the $2.3 billion corporate social market, which has seen its audience explode in the past few years as companies search for an approach to internal communication that's more streamlined and versatile than e-mail. More than 208 million people around the world used some kind of internal social platform for work in 2013, a 30 percent gain from the year before, according to researcher Frost & Sullivan. Almost 90 percent of those people used paid subscriptions. For Facebook, which has 1.35 billion people checking its service monthly but zero paying for the privilege, a corporate version could add revenue and soothe investor worries as the company's rate of U.S. user growth falls below that of Instagram, Pinterest, and LinkedIn. Although Rasmussen says Facebook has no immediate plans to make money from its corporate version, subscription fees are the likeliest next step for the ad-free service.
Facebook at Work looks familiar, down to its logo, the Facebook "F" inside a blue briefcase. In practice it works a little more like a bare-bones version of competitors such as Yammer (owned by Microsoft) or Chatter (Salesforce). Employers create worker accounts, and posts are automatically visible to everyone on the company's network. Workers can create smaller groups for project teams or ping individuals using Facebook Messenger. They have to rely on Facebook algorithms to decide what's of interest to each employee and narrow down the companywide newsfeed.
Slack, a startup that made its debut last year and quickly became the fastest-growing workplace software ever, makes it easy for workers to pull in files from Google Docs or Dropbox. Like most of the services that Facebook at Work is trying to compete with, it also already has a Facebook-style private messaging system, group message boards, and a company newsfeed. "Facebook at Work might be new, but the model itself is already out there," says Venkatesh Rao, who runs technology researcher Ribbonfarm Consulting. Companies using Yammer or Chatter can create different feeds for different departments, toggling between news from marketing and research and development. That's something Facebook at Work can't do.
Facebook at Work's lack of these kinds of sorting mechanisms could seriously impede its usefulness. "The reason that these systems have failed in the past is that information wasn't germane enough to allow the user to make a decision or take action," says Lisa Hammitt, the vice president for marketing at Salesforce Communities. By forcing workers to rely on its algorithms to determine which items they see, Facebook is betting it can interpret and manage any given set of corporate communications well enough to keep its corporate social network from feeling like an avalanche of HR spam, scheduling chatter, and ice bucket challenges.
It's tricky to separate signal from noise while also keeping a business's social network fun, says Daniel Kraft, chief executive officer of Sitrion, which sells social networking software to companies. "If you terminate nonproductive conversations, then you're eliminating the ability to make the network a community people would like to belong to," he says.
A problem all social networks face is making workers feel comfortable expressing any business problems or questions they may have in a forum that's far more public than e-mail, says Deloitte's Hagel. "There are a lot of cultural issues that have to change," he says. Still, he adds, corporate social networks appear to increase productivity and are likely to become essential business tools. "We're in a world of mounting performance pressure, and it's not going to go away," Hagel says. "If we don't find ways to learn faster, we're going to be marginalized."
Sitrion's Kraft says the best way for employers to get workers to use a social network is to force them—to make it the only source of bonus letters and staffing announcements. Yammer developers quickly learned that smaller group feeds were the best way to minimize people's anxiety about broadcasting their activities, says George Zachary, a partner at the venture capital firm Charles River Ventures, Yammer's first investor. At Facebook, Rasmussen is banking on early adopters. "What I expect will happen is that there will be a small group of employees who are fond of using social tools in general, and we'll give them the tools to engage the rest of the company," he says. The same marketing strategy worked for the original Facebook and for dating apps. But the model that attracted smartphone owners to Grindr might not work so well inside Pfizer or GM.
The bottom line: Facebook is trying to pull market share from its corporate-focused rivals, but it doesn't offer much new.
Before it's here, it's on the Bloomberg Terminal.
LEARN MORE