Ellmers Says Abortion Ban Went Too Far
Billy House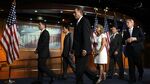 The U.S. House Republican who helped lead a rebellion against an abortion-ban proposal says the party must stop making itself vulnerable to claims it's waging a war on women.
Representative Renee Ellmers of North Carolina overnight became the face of House Republican women and centrists who persuaded their leadership to drop a bill that would have banned abortions after 20 weeks of pregnancy. They contended its exceptions for rape and incest were too narrow.
Instead, the House Thursday passed a measure that would make permanent a ban on federal funding of abortions.
"I believe our heart is in the right place. And we're standing up for what is right," Ellmers said in an interview, referring to fellow House Republicans.
For Ellmers, 50, first elected to Congress in 2010 with Tea Party support, the dispute is part of an effort to gain support from young voters and distance the party from such incidents as former Missouri Representative Todd Akin's remark about "legitimate rape" that sank his 2012 Senate bid.
"I believe a woman's voice has to be heard, that we should trust her voice, and that she should not be judged that way," Ellmers said. Republicans' prospects for attracting and keeping younger voters in 2016 and beyond are at stake, she said.
Millennials' Support
"Millennials are with us on so many issues," said Ellmers. "But when we come off as harsh and judgmental, we stop that conversation. We need to do a better job."
Ellmers said she supports a ban on abortions starting at the 20-week mark. The language of the bill went too far, she said -- allowing an exception for rape victims only if they had reported the assault to police. An exception for cases of incest would apply only to minors.
"The thing is -- I am pro-life. I believe in the sanctity of life. I believe that life begins at the point of conception," said Ellmers, a former nurse.
She emphasized that her actions stemmed from her concern over "that particular bill, and the path it was taking. It became more about rape and the victims of rape."
Unlike other Tea Party-aligned House members, Ellmers has been an ally of Speaker John Boehner. She voted dozens of times to repeal or defund Obamacare, though she opposed some party members' defund-or-shutdown strategy. She also backed the 2011 budget compromise that raised the U.S. debt limit.
Vote Rankings
Ellmers, chairwoman of the Republican Women's Policy Committee, has a seat on the House Energy and Commerce Committee, which includes a focus on health-care issues. National Journal's congressional vote rankings for the year 2013 placed Ellmers as the 97th most conservative member in the 435-seat House.
The dispute over the abortion bill is an example of how Boehner of Ohio and other Republican leaders must work to unify a party that now has control of the House and Senate. The party is split among those who want to take a hard line on social issues and those who want to appeal to centrist voters and women.
The substitute measure passed Thursday, H.R. 7, would make permanent a prohibition on federal funding for abortion services first passed in 1976. The funding ban has been enacted each year as part of a spending bill.
Ruling's Anniversary
Thursday's vote came on the anniversary of the 1973 U.S. Supreme Court ruling that legalized abortion, as abortion opponents held their annual march in Washington.
The Obama administration said the president would veto the funding measure if it reached his desk. It would go beyond the federal-funding ban "by interfering with consumers' private health-care choices," the administration said.
Obama also would veto the proposal to ban abortion after 20 weeks, the administration said. The rebellion against that proposal, H.R. 36, arose during a closed-door meeting among House Republicans on Wednesday, though some lawmakers began raising concerns last week.
So intense were some of the discussions that staff members were told to leave so lawmakers could talk privately, said Representative Charlie Dent of Pennsylvania, co-chairman of a House caucus of self-described centrists. He said the age limit for the incest exemption was "unreasonable."
Trent Franks
Representative Trent Franks of Arizona, a main sponsor of the 20-week bill, said Ellmers and some other opponents voted for the same bill when it passed the House in 2013, though the language on exceptions was accepted in a separate procedural vote.
Franks said House Majority Leader Kevin McCarthy of California told him the bill was being scuttled late Wednesday.
"He basically told me there are people fighting pretty hard against the allowing it on the floor, and that some of those people were pretty vociferous," said Franks. Though the leaders couldn't find a way to resolve the differences, Franks said he isn't giving up.
"The fact that we're talking to each other and that there is good will in all of these groups involved is good," Franks said. "Protecting these babies is the goal."
House Democratic Leader Nancy Pelosi of California, at a press conference Thursday, said the substitute bill was "even worse than the one they offered earlier." She said it was "not a success for women and their reproductive health."
'Extreme' Bill
"They switched one extreme and unpopular anti-abortion bill for another in the middle of the night, when their real goal is to ban abortion altogether," said Cecile Richards, president of the Planned Parenthood Action Fund.
Ellmers's role in toppling Franks's bill also drew criticism from the other direction, as an anti-abortion group that organized a protest in front of the House building where her Washington office is located.
"This is not a political betrayal, this is a betrayal of human rights and justice," Reverend Patrick Mahoney, director of the Christian Defense Coalition.
Ellmers, who voted for the substitute bill and contended her bona fides on opposition to abortion are solid, said she wasn't concerned about the pushback.
Ross Baker, a political scientist at Rutgers University in New Brunswick, New Jersey, said that during the last session of Congress, Boehner was under pressure from his party's hardliners.
2014 Election
"This Congress, the moderates will be heard from" after Republicans gained seats in more centrist areas of the country in the 2014 election, Baker said.
"There are a number of Republicans for whom veering too far right can be hazardous," Baker said. Ellmers's district in central North Carolina includes some suburbs of Raleigh, which Baker said has gotten more Democratic.
Sarah Binder, a political science professor at George Washington University in the nation's capital, said the dispute highlights the dilemma sometimes faced by moderate Republican women.
In a partisan chamber, the pressure to be part of the Republican team, "to defend and vote for its priorities, hits a road bump on some social issues," she said.
When leaders bring bills to the floor that lack Democratic support, "That increases the leverage of moderate Republicans in controversial votes," Binder said.
Ellmers said, "There's nothing new about the strength of women in our party."
"We felt very strongly that if we're standing up for women, then we have to do the right thing," she said. "And it would an incredible mistake for us to take a path other than that."