Aussie Below 80 Cents as Canada, ECB Feed RBA Rate-Cut Bets
Netty Ismail and Kevin Buckland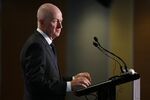 The Aussie dollar's slide below 80 U.S. cents for the first time since 2009 is being fueled by speculation the central bank will need to cut borrowing costs to a new record low.
The Bank of Canada's surprise decision to lower interest rates and the European Central Bank's bond-purchase program have raised the odds of looser monetary policy in Australia. Traders see a 47 percent chance the Reserve Bank of Australia will lower rates at this year's first policy meeting on Feb. 3, up from 25 percent odds on Jan. 16, according to overnight interest-rate swaps. Currency traders turned the most bearish on the Aussie in more than a year, options show.
While the central bank has kept its cash rate target at 2.5 percent for 17 months, the benchmark is at least 1.25 percentage points higher than any other major developed economy outside New Zealand. Australia has been struggling with the end of a once-in-a-century resources boom and a slowdown in China, which buys more than 35 percent of its exports.
"The RBA is probably going to stay on hold next month but there's a not-insignificant chance that they do cut," said Greg Gibbs, head of Asia-Pacific markets strategy at Royal Bank of Scotland Group Plc in Singapore. "They'll have a more dovish tone in their language at least."
The ECB on Thursday announced a quantitative-easing program of 1.1 trillion euros ($1.25 trillion) that will start in March and last until at least September next year as it seeks to counter deflation.
Risk Reversals
The Aussie has tumbled 16 percent from its 2014 peak of 95.05 cents reached on July 1 and slid to 79.75 U.S. cents today, the weakest since July 2009. It was at 79.78 cents at 4:14 p.m. in Sydney. The premium on options to sell the currency versus its U.S. peer over those to buy rose to as high as 2.97 percentage points, the most since 2013, according to six-month risk-reversal rates.
The number of economists anticipating the RBA will lower borrowing costs in the first half of the year has risen to 11 of the 35 surveyed by Bloomberg News from Jan. 15-20, up from six of 26 in December. They include strategists from three of Australia's four major banks, the country's largest investment bank and Deutsche Bank AG.
Canada's Example
The Australian dollar slumped as much as 1.2 percent on Jan. 21 after the Bank of Canada, reacting to plummeting oil prices, unexpectedly cut its key rate by a quarter point to 0.75 percent.
Iron ore, which accounts for a fifth of Australia's export income, has declined to a five-year low. Arrium Ltd., an Australian iron ore and steel producer, said today it will write down the value of its assets by A$1.3 billion ($1 billion) and shutter mines in response to tumbling prices.
"There is an increasing possibility that the RBA -- just like the Bank of Canada -- takes an insurance policy by cutting rates," said Kumar Palghat, a Sydney-based money manager and founder of Kapstream Capital, which oversees the equivalent of about $7 billion. "Whether they do it this month or next is only a matter of time."
If the RBA were to slash its key rate by half a percentage point, it would fuel a rally in Australian bonds and a further decline in the currency, he said. There will be less reaction if the cut is 25 basis points, he said.
The RBA is unlikely to cut in February as declines in the currency give it some breathing room, he said.
Weaker Aussie
Australia's 10-year bond yield slid to 2.49 percent on Jan. 16, falling below the central bank's cash rate for the first time since 2012.
It's too early for the RBA to decide on any rate cut, with positive signs for the economy, said Tamar Hamlyn, a Sydney-based principal at Ardea Investment Management, who used to work at the central bank.
Employers boosted payrolls in November and December by the most in any two-month period in the past eight years, the Australian Bureau of Statistics said this month.
"The outlook for rates in Australia is very uncertain," Hamlyn said. "We really need to get to the middle of the year before we have a good idea of how healthy the Australian economy is."
RBA Governor Glenn Stevens has flagged that the cash rate will remain unchanged to stimulate growth. In an interview with the Australian Financial Review published Dec. 12, he said the currency will probably extend losses this year, and cited 75 cents as a level he preferred.
"The main negative effect on Australia from the various central bank developments in Europe is that the uncertainty they are creating could be supporting the Australian dollar, at a time when a lower currency would help local growth," said Paul Bloxham, chief Australia economist at HSBC Holdings Plc in Sydney. "If the RBA were to cut rates, which is not our central case, it could be expected to put some downward pressure on the Australian dollar."
Before it's here, it's on the Bloomberg Terminal.
LEARN MORE