Obama's New Way to Watch the #SOTU Was Excellent
A video feed bolstered by graphics, and all the social media buttons you could click.
By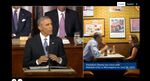 Change has come to the State of the Union address. 
Using a slick, multimedia presentation at whitehouse.gov that was geared to social-media sharing, President Barack Obama drastically revamped the presentation of the State of the Union address Tuesday night. 
While entering the Web stream required that users enter their e-mail address and zip code and indicate how one planned to help the president enact his agenda (write a letter to an editor, volunteer, share information—prerequisites that no doubt weeded out all but Obama's staunchest supporter), what awaited the partisans who jumped through those hoops was a State of the Union unlike any ever witnessed. A split-screen stream of the speech showed Obama on the left hand side of the screen, and graphics bolstering his claims on the right. Beneath the live stream, each graphic popped up in sequence, with handy Twitter, Facebook and email share buttons a click away. 

"Don't just watch the speech—participate," text on the site encouraged users. "Share and interact with our continuously flowing river of #SOTU content below."
To be sure, engagement with the content meant tacit approval of the themes in Obama's speech, but the White House also took steps to change the State of the Union more accessible for those who do not share his political ideology by releasing the entire speech to the general public on Medium.com.  
"There is a ritual on State of the Union night in Washington. A little before the address, the White House sends out an embargoed copy of the President's speech to the press (embargoed means that the press can see the speech, but they can't report on it until a designated time). The reporters then start sending it around town to folks on Capitol Hill to get their reaction, then those people send it to all their friends, and eventually everyone in Washington can read along, but the public remains in the dark," a White House message on the site explained. "This year we change that."
Back at WH.gov, there were some glitches. Camera feeds of the president entering the House chamber suddenly dropped, graphics occasionally failed to load, and during the president's speech, wireless feeds often froze, stalling the slideshow in its tracks.

But it was clear after watching this approach to spreading the Democratic president's message, and the shares on Twitter and Facebook were evident as the speech went on, that all future presidents, regardless of party, will not be able to go back to the old way of doing the State of the Union.