politics
Obama, Congress, and the Great ISIS Punt
The president's vagueness is answered by Republican vagueness.
By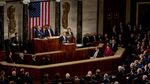 President Barack Obama's call for a resolution of war–sorry, of force–against ISIS came late in the State of the Union. It wasn't previewed in the early sections seen by reporters and members of Congress. And it was confusingly phrased. After saying that the United States was leading a "broad coalition" in the Levant, Obama added: "I call on this Congress to show the world that we are united in this mission by passing a resolution to authorize the use of force against ISIL." The mission was ongoing, and would go on unless Congress decided to limit it.
Obama's vagueness was met with Republican vagueness. After the speech, Virginia Senator Tim Kaine—the Democrats' chief advocate for a new AUMF—issued a statement saying the president "did not signal an intention to send a draft to Congress for consideration." Kate Nocera found Republicans either hopeful that Obama would send down a draft of an AUMF, or cynical that he'd come up with anything good. "We need some leadership out of the commander-in-chief and he's provided none," said Senator Ron Johnson of Wisconsin, a Republican class of 2010 winner who took the seat of Iraq War critic Russ Feingold.
On Wednesday, at a roundtable sponsored by the Heritage Foundation, some of the House's most conservative members passed up a chance to describe what they wanted in the AUMF, or say that Congress needed to take the lead on it.
"The ball is in his court," said Kansas Representative Tim Huelskamp. "In order for him to ask us for an authorization of force, he needs to have a plan."
Idaho Representative Raul Labrador reiterated that the White House lacked a plan, then uncorked some snark. "It's interesting," he said. "This is emblematic of what a failed president he is. He gets up in front of the Congress, he gives a wonderful speech, he tells us that he wants authorization for the use of force. It's up to him to get that done! It's up to him to present the plan."
To critics of presidential power, and critics of war, the whole tiff was baffling. This was the first State of the Union since 9/11 without a mention of al-Qaeda, the first to suggest a bigger congressional role in approving military action, and no one was biting.
"This whole debate isn't really what you'd call a Profiles in Courage moment," said Gene Healy, a vice president at the libertarian Cato Institute and the author of The Cult of the Presidency. "Here's Boehner whingeing (and suing) over 'unilateral action' on immigration waivers while simultaneously foot-dragging over the most important responsibility the Constitution gives to Congress because the president hasn't done the first draft. Anyone who cares about the dangers of a new AUMF becoming a blank check should want it drafted in Congress in the first instance."
In the majority, there's just little evident enthusiasm for doing this. Labrador, for example, compared Obama's punt to Congress on the AUMF to the passage of the Affordable Care Act. "He had nothing to do with it," he said. "That was Nancy Pelosi and the Democratic leadership."
This critique was at odds with what Healy cited–the perennial attack on an imperial, unaccountable president. The members most keen on a new AUMF vote seemed to be the Democrats, whose votes weren't as necessary for passage.
"I'm not necessarily just automatically going to vote for that," said Arizona Representative Ruben Gallego, an Iraq War veteran elected to a safe Democratic seat last year. "I want to see details before we commit ourselves to a new use of force. As a veteran it's incumbent on me to at least bring in that perspective. I don't want to see us engaged anew in the area, with a blank check."
Before it's here, it's on the Bloomberg Terminal.
LEARN MORE