Michael Kors May See 'Halo Effect' From Michelle Obama's Suit
Lindsey Rupp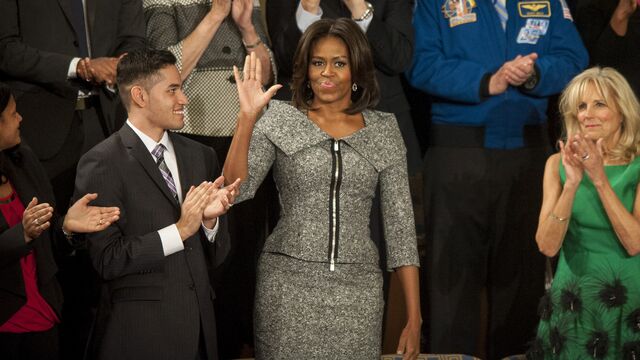 Michael Kors Holdings Ltd. gets the first lady's seal of approval.
The luxury goods company is basking in some media buzz after Michelle Obama wore a gray skirt suit from the designer's 2013 collection to the State of the Union address last night in Washington.
Michelle Obama, who has been on the cover of Vogue twice since President Barack Obama took office, is seen by many as a style icon. The first lady is often seen baring her toned arms as she promotes her Let's Move campaign to fight childhood obesity. She frequently wears pieces by American designers such as Oscar de la Renta and brands like J. Crew. While Kors makes most of its sales in leather goods and accessories, the company has two women's apparel lines that sell items for as little as $50 to as much as $4,000.
"It's a message about the strength of the American designer," Joanne Arbuckle, dean of the Fashion Institute of Technology's school of art and design, said in an interview. "You look at Michael Kors and the beautiful work he does, the First Lady shows us how you can move among all of this."
Michelle Obama has worn Kors dresses in earlier public appearances, including at an election night party in 2012 and the inaugural reception in 2013.
Slowing Growth?
"I'm always excited to see smart, sophisticated and stylish women like Mrs. Obama wearing my designs," Michael Kors said in an e-mailed statement.
The shares got a boost today after analysts at Cowen & Co. upgraded the stock to the equivalent of a buy rating in part because data indicated sales of handbags remained strong through the holidays. The stock closed at $68.50, up 2.2 percent.
Kors is trying to thwart concerns that its sales are slowing in its handbag and accessories business. Comparable-store sales rose 16 percent in its fiscal second quarter, the company said in November, missing estimates for 19 percent growth. While apparel is only a small part of the retailer's sales, the brand could see a "halo effect" from Michelle Obama's outfit, said Anna Andreeva, a New York-based analyst at Oppenheimer & Co.
"They've done well with apparel," Andreeva said. There's some hope in apparel coming back, and this is an accessibly luxury brand I could see some of the consumer aspiring to.''
Before it's here, it's on the Bloomberg Terminal.
LEARN MORE