Gore, Pharrell Williams Plan June 18 Concerts for Climate
Stefan Nicola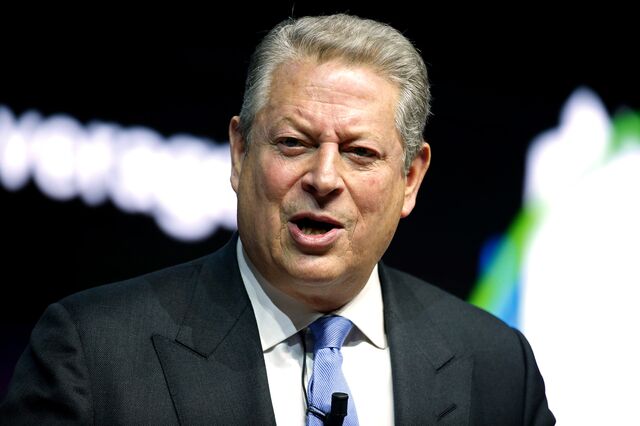 Former U.S. Vice President Al Gore, musician Pharrell Williams and producer Kevin Wall are putting together a music event dubbed Live Earth -- Road to Paris to build support for protecting the climate.
The intention is that the event on June 18 will be the biggest ever campaign, including concerts on all seven continents, Wall told a panel with Gore and Williams at the World Economic Forum in Davos today.
The goal is to bring together "1 billion voices" from around the globe demanding climate action, said Gore, who has made the environment a personal mission since he left office in 2001. The organizers wish to boost political momentum toward a deal on reining in greenhouse gases that the United Nations is seeking to adopt in Paris in December.
"We literally are going to have humanity harmonize all at once," said Williams, whose upbeat song "Happy" became a worldwide hit last year.
The Live Earth locations include China, Sydney, Cape Town, Rio de Janeiro, New York City and Paris, Wall said. Gore said a band made up of scientists will play at a research station in Antarctica. "More than a hundred of the greatest, most famous artists of the world will be on these big stages around the world," Gore said.
Following Geldof
The event is to be broadcast in more than 190 countries and recalls the Live Aid event promoted by musician Bob Geldof in 1985 to raise money for the famine in Ethiopia.
A year earlier, Geldof had founded a charity supergroup called Band Aid featuring artists including George Michael, Phil Collins and David Bowie. Their song "Do They Know It's Christmas?" became a Number 1 hit and raised millions of dollars for the cause. Similarly, Farm Aid concerts have been held almost every year in the U.S. since 1985 to channel support for farmers living in poverty.
Gore along with Paul Polman, chief executive officer of the consumer goods maker Unilever NV are using discussions in Davos to push for limits on fossil-fuel emissions that scientists say are warming the planet.
Last year was the warmest on record, and temperatures are on track to rise 3.6 degrees Celsius by the end of the century, a course that would cause irreversible damage to the planet and spark more floods, droughts, water shortages, extinction of species and ocean acidification.
Business as Usual
"The cost of not acting is starting to be higher than the cost of acting," Polman said at a press conference with Gore. "We need to set clear targets. We need a price on carbon."
Lord Stern, the former U.K. Treasury adviser who authored an influential paper setting out the costs of climate change, said this year's decisions on the issue starting with the UN move on sustainability goals in September and culminating with the talks in Paris in December will shape the next two decades.
"These are the 20 years when we have to tackle climate change," Stern said. "What we do in the next 20 years will be transformational. It can be the best of centuries. Or if we dither around for the next 20 years we can make it the worst."
Before it's here, it's on the Bloomberg Terminal.
LEARN MORE