ASML Forecast Tops Estimates as Chip-Equipment Orders Revive
Elco van Groningen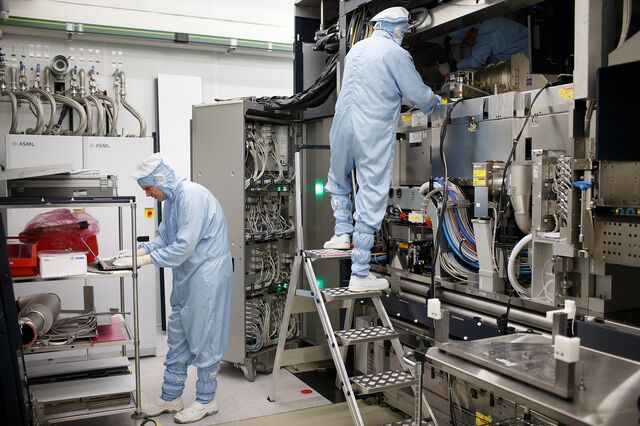 ASML Holding NV said first-quarter sales will beat estimates as Europe's largest chip-equipment maker anticipates rising demand for technology for mobile communication devices. The shares rose to a record.
Sales will be about 1.6 billion euros ($1.9 billion) in the first three months of the year, the Veldhoven, Netherlands-based company said in a Wednesday statement. Analysts polled by Bloomberg predicted an average of 1.5 billion euros.
"It's anything that's mobile and that has to do with communications," Chief Executive Officer Peter Wennink said, when asked about the driving force behind orders for his company's machines. As demand grows for devices that can communicate to servers and each other, the need for data-processing and storage chips is set to increase, he said.
ASML plans to benefit from this development by persuading chipmakers to upgrade their machinery to Extreme Ultraviolet Lithography systems, or EUV, as these enable the production of smaller chips while increasing the capacity and speed. Smartphones are expected to be one of the semiconductor industry's biggest drivers this year, research company Gartner Inc. said last week.
Machine Orders
ASML expects to ship six of its latest EUV machines this year, CEO Wennink said in a video on the company's website. Taiwan Semiconductor Manufacturing Co. has ordered two EUV machines for delivery in 2015, while two of the client's other operating systems will be upgraded.
The shares rose as much as 5 percent to an all-time high of 94 euros, the biggest intraday gain since July 30. They traded 3.3 percent higher at 92.48 euros at 1:13 p.m. in Amsterdam, valuing the company at 40.5 billion euros.
ASML forecast a first-quarter gross margin of about 47 percent, compared with an average estimate of 45 percent.
The sales forecast is "noticeably better than consensus, so I expect consensus to shift up its numbers," Jefferies analyst Lee Simpson said by phone.
ASML proposed a dividend of 70 cents a share for 2014, a 15 percent increase on the previous year. The company also announced a 1 billion-euro share-buyback program.
A lockup for Intel Corp., Samsung Electronics Co. Ltd. and Taiwan Semiconductor to sell ASML shares they bought as part of a co-investment program in 2012 -- aimed at driving the development of EUV and the 450 millimeter silicon wafer technology -- expires in April. Intel, Taiwan Semiconductor and Samsung bought respective stakes of about 15 percent, 5 percent and 3 percent.
Taiwan Semiconductor Chief Financial Officer Ho Li-Mei said last week that the company is selling its 21 million shares at 62.59 euros apiece -- a discount to ASML's current share price stemming from the signing of contracts with buyers over the past two years, when ASML's share price was lower.
Samsung said last week that it has no plans to sell its stake, while Intel declined to comment on the matter.
Before it's here, it's on the Bloomberg Terminal.
LEARN MORE