Ukraine Fighting at Airport Forces Rush of Diplomacy
Henry Meyer, Daryna Krasnolutska and Volodymyr Verbyany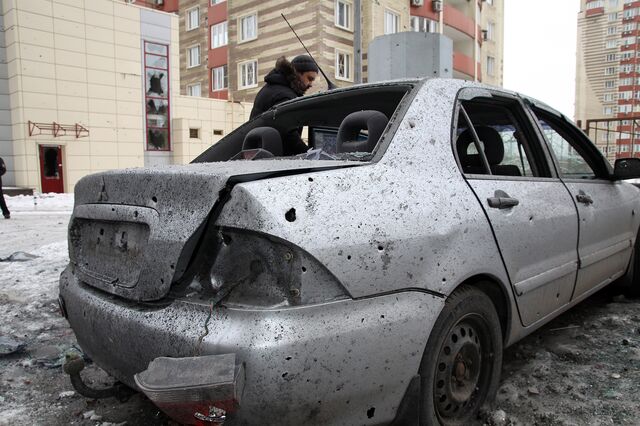 The escalation of fighting in Ukraine after a lull last month is forcing diplomats across Europe to seek ways to stem the violence that's threatening to tip the country into full-blown war.
Foreign ministers from Ukraine, Russia and France have been invited by Germany to meet in Berlin Wednesday to try to revive peace negotiations as some of the fiercest clashes in months continue in the shattered remains of the Donetsk airport in eastern Ukraine between separatists and government troops.
The conflict pitting the Ukrainian government against pro-Russian separatists, which the United Nations says has claimed more than 4,800 lives, intensified after attempts to revive peace talks collapsed last week and civilian deaths mounted. Ukraine, the U.S. and the European Union accuse Russian President Vladimir Putin of backing the separatists with money, troops and weapons. Putin denies military involvement.
"The situation is very dangerous," Anton Lavrov, an independent defense analyst in Torzhok, Russia, said by phone. "It's not clear at all that they will be able to renew the cease-fire. It could lead to full-scale clashes across the front and big losses on both sides."
'Absolute Nonsense'
As a bitter battle engulfed the Donetsk airport, Ukraine this week made fresh allegations that Russian troops have entered the conflict and attacked its forces. The government in Moscow dismissed the notion as "absolute nonsense."
German Foreign Minister Frank-Walter Steinmeier called the meeting of his counterparts at the request of Ukraine and Russia, the ministry in Berlin said in a statement. The last meeting was Jan. 12. Russian Foreign Minister Sergei Lavrov will attend, Interfax reported, citing an unidentified Russian diplomat in Germany.
Russia wants to facilitate talks between rebels and the authorities in Kiev, and will use the talks in Berlin to ask Ukraine to withdraw heavy weapons, Lavrov told reporters in Moscow today. The government in Moscow is "very worried" by an escalation of the conflict and urges a halt to shelling of civilian areas, Lavrov said. An immediate cease-fire is needed in Ukraine, according to Russia's top diplomat.
Ukraine's Stance
Ukraine is ready for talks with Russia in Berlin, with the participation of France and Germany, Foreign Minister Pavlo Klimkin told reporters Tuesday in Kiev. It wants agreements on pulling back heavy weaponry from the conflict zone, releasing prisoners, and restoring Ukrainian control of its border with Russia to be observed, he said.
The United Nations Security Council will also meet Wednesday to discuss the situation in Ukraine, Klimkin said.
U.S. President Barack Obama and his French counterpart Francois Hollande discussed the conflict by phone today, talking about the need to maintain sanctions against Russia and provide financial assistance to Ukraine, according to a White House statement.
As diplomats rushed to organize the meeting in Germany, Putin sent his own message.
Russia will bolster its defense forces to protect its territorial integrity and act to "neutralize" political and security risks, he told a meeting of government and defense officials outside Moscow on Tuesday. Certain countries voiced geopolitical claims and meddle in the domestic affairs of other countries, he said, without naming any directly.
Airport Symbol
The flurry of diplomatic activity came as Ukrainian government forces and rebels fought pitched battles in the arrivals and departure halls at the Donetsk airport, which has acquired symbolic importance for both sides. The terminals, refurbished for the Euro 2012 soccer tournament, have been reduced to smoking ruins.
The battle to defend the airport has become "a symbol of Ukrainian glory," Oleksiy Melnyk, a defense analyst at Kiev's Razumkov Center for Economic and Political Studies, said by phone. The country's media has nicknamed the troops stationed there "cyborgs," a reflection of the perceived difficulty of their task, according to Otilia Dhand, an analyst at Teneo Intelligence in London.
Ukrainian President Petro Poroshenko is cutting short his schedule at the World Economic Forum in Davos and returning to Ukraine Wednesday because of the new escalation in fighting. Government troops halted two assaults at two roadblocks since yesterday and the battle over the airport in Donetsk was continuing, the Ukrainian National Security Council said today, adding that the attacks involved Russian military personnel.
Failed Meeting
The intensifying battle around the airport may also be part of a broader plan by Putin to force Ukraine and its allies to recognize the self-proclaimed rebel republics and negotiate directly with the separatists, Volodymyr Fesenko, a political analyst at the Penta research institute in Kiev, said.
The fighting escalated as soon as it became clear that a plan for talks last week in the Kazakh capital between Putin, Poroshenko, German Chancellor Angela Merkel and French President Francois Hollande had been abandoned, Fesenko said.
An informal truce in December was followed by negotiations on Dec. 24 involving Ukraine, Russia, rebel representatives and the Organization for Security and Cooperation in Europe that led to the exchange of hundreds of prisoners. A second meeting planned for Dec. 26 did not take place.
New Offensives
Rebels and Russian troops are carrying out new offensives in the east, the government in Kiev said on Tuesday, after Ukraine claimed that 800 Russian troops had crossed its border. Russia's Defense Ministry called the allegations "hallucinations."
"There is no alternative to a peaceful resolution," Putin's spokesman Dmitry Peskov said by phone. "Unfortunately once again, Ukraine is repeating its mistake, trying to resolve this problem through military means."
EU foreign ministers agreed Jan. 19 to maintain economic sanctions against Russia as long as the conflict in eastern Ukraine continues.
Asset freezes and visa bans, imposed on Russian officials last March after Russia annexed Ukraine's Crimea peninsula, are due for renewal in March. Sanctions banning access to financing for major Russian banks and exports of energy-exploration equipment, introduced last July after a Malaysian Airlines passenger plane was downed over eastern Ukraine, will be reviewed by July.
"Things will get worse in the next few months and Russia can't change its policy," Alexei Panin, deputy director of the Center for Political Information in Moscow, said by phone. "It can't soften its stance and it can't strengthen it either because it will be seen as a direct intervention in the conflict."
Before it's here, it's on the Bloomberg Terminal.
LEARN MORE