Li Hits Davos With China Saying 'Get Over It' on Slowdown
Bloomberg News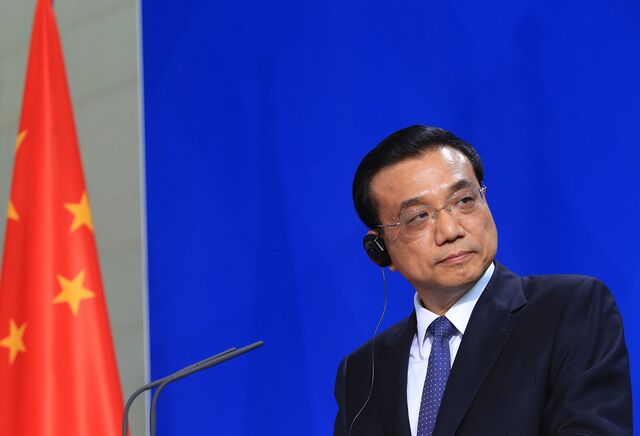 As China's premier prepares to address global decision-makers at Davos on Wednesday, his nation's state news agency offered a message for those worried about the weakest Chinese economic growth since 1990: "Get over it."
That's the expression Xinhua used after government data showed gross domestic product rose 7.4 percent last year. It's no surprise the "miraculous" years of 10 percent expansion are done, the agency wrote in a commentary. The remark echoes President Xi Jinping's repeated emphasis on a "new normal" era where policy makers focus on the quality of growth.
Indeed, there were signs in Tuesday's report that China is rebalancing, as the Communist leadership wants. Income gains among both rural and urban residents exceeded the bump in GDP, helping propel consumer spending and services-sector advances. Dragging on growth: real-estate and investment spending, which have in recent years contributed to overcapacity in the economy that's deepening the risk of deflation.
"The old China growth model is dying," said Zhao Xijun, a finance professor with Renmin University in Beijing. "At the same time, a new Chinese economy is emerging that is relying more on innovation, services and domestic consumer spending."
The shift is set to redefine China's economic ties with the world. China will move from being the world's factory to an exporter of money and ideas, Zhao said, citing the Silk Road plan to invest in neighboring nations' infrastructure.
There may also be wobbles. Speaking at a conference in Hong Kong on Tuesday, Nobel laureate Paul Krugman said he'd be surprised if there wasn't a recession as consumption gains lag investment declines amid the economy's transition. Still, he doesn't anticipate a "permanent implosion" and said the future "still does belong to China."
Alibaba, Huawei
Supporting Premier Li Keqiang's sales pitch will be the faces of China's new economy -- executives like Jack Ma, chairman of Alibaba Group Holdings Ltd. and Ren Zhengfei, president of Huawei Technologies Co. -- who are also attending the World Economic Forum. Li's speech on the global impact of China's transition is scheduled for 5:45 p.m. Davos time on Wednesday, which is 12:45 a.m Jan. 22 in Hong Kong.
While Chinese premiers rarely head to the annual Alps gathering, its leaders have used the forum at key stages of the nation's development. China sent its first official delegation there in 1979, the year former supreme leader Deng Xiaoping started to open up China to the outside world.
In 1992, when relations with western nations were thawing after the 1989 crackdown on the Tiananmen Square democracy movement, then Premier Li Peng told the Davos audience that China would continue its economic reforms. In 2009, Wen Jiabao expressed confidence in maintaining stable growth even as the U.S. and Europe were roiled by the global financial crisis and outlined his massive stimulus response.
December Boost
The latest stimulus efforts and the central bank's first interest rate cut in two years showed signs of traction in December, boosting industrial production and retail sales.
"Traditional businesses and heavy industries have encountered a lot of difficulties," Ma Jiantang, chief of the National Bureau of Statistics, said at a press conference Tuesday in Beijing. "But new industries, new technologies, new models and new products are mushrooming."
The share of services in GDP's make up last year exceeded industry by 5.6 percentage points, NBS data showed.
At the "Summer Davos" in Tianjin in September, Li put a brave face on China's slowdown, saying the government won't be distracted by short-term fluctuations in individual economic indicators and will maintain its focus on structural adjustments and dealing with long-term issues.
The government had targeted a GDP jump of about 7.5 percent in 2014. The last time the full-year expansion missed the state target was 1998, amid the Asian financial crisis.
"China's actual economic performance appears more balanced," Angela Beibei Bao, an analyst with Rhodium Group in New York, wrote in an e-mail Tuesday. "Announcing an actual growth below the soft target previously announced validates Beijing's reform resolve."
— With assistance by Xin Zhou
Before it's here, it's on the Bloomberg Terminal.
LEARN MORE