How Long Will Obama Talk Tonight?
Probably for longer than an episode of Scandal.
By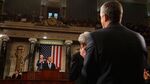 President Barack Obama will probably speak to Congress and the nation on Tuesday night for longer than an episode of Scandal, but for far less time than it will take the New England Patriots and the Seattle Seahawks to settle Super Bowl XLIX.
Even as the White House struggles to capture the attention of screen-addled Americans, State of the Union addresses are getting longer. Obama's annual speeches to Congress run an average of 64 minutes, according to the University of California-Santa Barbara's American Presidency Project. Since Lyndon B. Johnson, only Bill Clinton has given longer addresses, with his average coming in at almost 75 minutes.
Those are unusual by modern standards. George W. Bush tended to speak for about 53 minutes, while his father went on for just 45. Richard Nixon hardly cleared his throat, giving talks that averaged just 35 minutes.
By word count, Obama's speeches hardly make a dent. His tend to clock in at about 7,000 words. Skipping over Clinton, you'd have to go back to Calvin Coolidge to find such lengthy speeches, as his averaged nearly 9,000 words. The idea that Coolidge was even giving a speech was relatively new. Most presidents before him had fulfilled the constitutional directive that they would "from time to time give to the Congress Information of the State of the Union" with written addresses. Coolidge's predecessor Woodrow Wilson had been the first to give a speech since John Adams.
The biggest State of the Union speeches by word count have tended to be in this earlier, written form. William Howard Taft gave updates that could approach 28,000 words. His predecessors routinely gave addresses that were 15,000 to 20,000 words.
The longest State of the Union was Jimmy Carter's farewell address from January 1981—the last such speech not to be delivered in person—at a whooping 33,667 words long.
By contrast, the founders tended to prefer short and sweet. Washington's updates were usually about 2,100 words long, and his first in 1790 was the institution's shortest: just 1,089.