Democrat Predicts Obama Can Pass Fast-Track Trade Accords
Billy House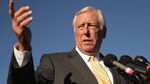 Representative Steny Hoyer, the No. 2 Democrat in the U.S. House, said legislation to give President Barack Obama the ability to win speedy approval of trade accords can pass Congress even with opposition from some party members.
"Can it pass? Yes it can," said Hoyer of Maryland, who Tuesday said Obama probably will request trade promotion authority from Congress in his State of the Union address.
The Obama administration's negotiations with 11 governments in the Pacific region would be the first submitted under fast-track authority, which limits Congress to an up-or-down vote and bars amendments on trade agreements.
Democratic lawmakers led by Representatives Rosa DeLauro of Connecticut and Louise Slaughter of New York oppose granting such authority. They argue it would let a president act without congressional input when negotiating deals they said will kill jobs and threaten food safety and environmental regulations.
"First of all, let me point out that division among our party" isn't new, Hoyer said.
Hoyer declined to say whether he and House Democratic Leader Nancy Pelosi have a position on fast-track authority legislation. The leaders have told administration officials that Congress needs more information, including potential effects from trade deals on the environment, jobs, consumer protections and safety, he said.
"We'll have that debate and discussion," he said.
Hoyer said past trade agreements have been "good for our country and our workers."