Christie Headed to London in Latest Foreign Policy Excursion
Terrence Dopp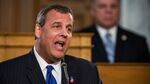 New Jersey Governor Chris Christie, a potential presidential candidate, will head to London next month for an official visit, the latest trip allowing him to burnish his credentials on foreign policy.
Christie, a Republican, will travel to London Feb. 1 to Feb. 3 in a mission that spokeswoman Maria Comella said will focus on expanding business and cultural ties between the U.K. and New Jersey. The trip follows earlier sojourns to Mexico and Canada, where Christie stressed the importance of TransCanada Corp.'s Keystone XL pipeline project.
Christie, a 52-year-old in his second term, has said he's considering a 2016 run for president. During his two earlier trips, he said he sees an "energy renaissance" in North America and that the U.S. needs to pay closer attention to its neighbors.