Bobby Jindal Sticks with 'No-Go Zones' Claim After Fox News Recants
The Louisiana governor delivered a speech in London Monday that repeated a familiar claim.
By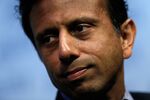 It's not the kind of publicity Bobby Jindal was hoping to generate. In his London speech on the topic of the best way to combat radical Islam, the Louisiana governor and prospective presidential candidate spoke of so-called "no-go zones," alleged places where Muslim populations are so big and radicalized that non-Muslims fear to enter, or are prohibited to tread without proper religious head covering.