Al-Qaeda in the Arabian Peninsula is Really A Media Company
It aims to turn an insecure, underserved millennial demographic into jihadists through an online magazine.
By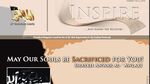 Claiming responsibility for the Kouachi brothers' attack on the French newspaper Charlie Hebdo, al-Qaeda in the Arabian Peninsula (AQAP) released a peculiar statement to The Intercept that included a list of "important messages to all the western countries." Rather than focusing on the military efficiency of the massacre, the glorious martyrdom of the attackers, and Allah's glory, AQAP's central message seemed to be to laud a glossy publication:
The inspiring media policies of the Mujahideen of Al-Qaeda especially of Inspire Magazine has greatly succeeded in identifying its targets and collecting powers. One of the cartoonists' name and photo were put down in Inspire's wanted poster, dead or alive…

So France, are you ready for more attacks; Weren't you asked by Inspire Magazine immediately after the Wanted List?
The statement underlined a truth that has been emerging for years. While Osama Bin Laden was a terrorist ringleader, his successors and followers at AQAP are quite literally running a media company, targeting a particular, underserved, mostly millennial demographic. AQAP's products are based on the notion that jihad is not only a religious necessity but a lifestyle choice for Western young people, one that needs instruction and reinforcement and its own chatty community of bloodthirstiness.  
AQAP has published Inspire online since June 2010; its name is taken from the line "Allah says: 'And inspire the believers to fight.'" Reportedly—the magazine's exact provenance and authenticity are not beyond doubt—it is the brainchild of two American men, Samir Khan and Anwar al-Awlaki. This influence shows: the English-language magazine has Adam Sandler jokes, to-buy lists, and how-to's: "Make A Bomb in the Kitchen of Your Mom"! (The Tsarnaev brothers, the two suspects in the Boston marathon bombing, may have followed these instructions; the elder brother, Tamerlan, reportedly spent time on the Inspire website.)
Another "bomb school" featurette: "Car Bombs Inside America, w/AQ Chef." Aimed at young, nominally Muslim mouseburgers (Helen Gurley Brown's term for her insecure Cosmo charges), it goes after young people the way magazines always have, telling kids who don't really fit in how to be cool and accepted, how to gain power in the world, as well as sexual (or at least marital) satisfaction: how to live. This is Details mag for the jihadist set.
A given issue contains resource manuals, policy takes, and a Twitter stream-like page called "Jihad Talk" where you can "@hear the world." Issue 12, from Spring 2014, contained a full-page spread called 'Mujahid's Notes, which looks like a carefully selected desk shot ripped from any issue of Esquire or GQ: manly tools and supplies as signifiers, a post-it with an appointment reminder, a planner with plenty of scribble, and a yearbook-style shot of a young man in cap and gown with an American flag behind him. There's a "to-buy" list that happens to be dated July 4: Sugar, Christmas lamp, pizza, tissue, O2 gas cylinder, epoxy, pipe. And on a yellow legal pad: "Defend women & children, provide food & water, support Syrian rev. and fight da tyrant."
On the bottom of a notebook page, a quote attributed to the American government is crossed out, and popular man-child Adam Sandler's name jotted in. "LOLZZZ," the notebooker has jotted: accessible youth abbrevs! He's written down a quote, maybe even from Emily Post: "Gentlemen do not read each other's mail."—Henry L. Stimson, 1929. It's a grab-bag, told in a reasonable approximation of the forced, slightly manic wit that characterizes most commercial attempts to communicate with young people.

In 2011, the same network expanded its franchise by launching a women's magazine: Al Shamikah (The Majestic Woman, although this one's in Arabic, not English), a sort of Jihadist Cosmopolitan. In pinks and purples, and with flower and field decorations, it includes tips for keeping a clear complexion (stay indoors, ladies), for not "toweling too forcibly," and, for lonelyhearts, advice for marrying a mujahideen. In the debut issue, a woman applauded her husband's bravery after his suicide bombing in Afghanistan. It includes poems, and calls for women to stand by their jihadi men. "Your house is your kingdom," it says. Talk about having it all (other than photos of women).
Like any other, these days, Inspire magazine has suffered from waning readership; a couple of years ago, the Atlantic reported that Inspire's rate of download was seriously down. It's a tough industry. Experts have said that the quality has gotten worse since Khan and al-Awlaki died, in the same drone strike in September, 2011. Perhaps other writers don't know the conceit of a writer putting on public gratitude. In the début issue of Inspire, before arguing for the assassination of those who defame Islam, the American al-Awlaki wrote, "I would like to express my thanks to my brothers at Inspire for inviting me to write the main article for the first issue of their new magazine."
The graphics remain varied and catchy, the look glossy, but perhaps the perception of diminished quality is why the AQAP statements following the Charlie Hebdo attack seem so intent on raising its profile. "Many warnings have been given before… As the 'Wanted List' stated," it pushed. The public must keep up with its sheriff and vigilante-style hit list, which had included Stéphane Charbonnier, the editorial director of Charlie Hebdo, in 2013. The member of AQAP who provided a statement to the Intercept even said that Inspire had included a clue in its December issue that foreshadowed the Paris attack: the image of a Muslim kneeling in prayer beside a cooking pot like that used by the bombers of the Boston marathon, and just below an image of a French passport.
Tweets and social media get loads of PR these days. In his Friday news conference with British Prime Minister David Cameron, Obama mentioned these as terrorists' preferred method of communication—but AQAP emphasizes the continued richness and weightiness of the magazine. In a way, Inspire is a legacy publication, AQAP's flagship—it's helping to hold the movement together.