Abe Tests War Message That Risks Asian Ire in Pivotal Year
Isabel Reynolds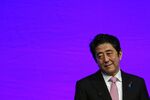 Prime Minister Shinzo Abe is promoting Japan as a postwar peace-builder as he tests the waters for a statement marking the 70th anniversary of its World War II defeat that risks irritating China and South Korea.
Japan has taken an "unwavering path" of peace since the war, Abe said in Cairo on Jan. 17 in his first overseas speech of a year set to be overshadowed by history. In India, Foreign Minister Fumio Kishida talked of Japan's plans to contribute to global security.
Abe has said he upholds previous statements of contrition on the 50th and 60th war anniversaries and will make a new declaration in August. Shifting the focus to the postwar period may provoke anger from Asian neighbors just months after Abe held his first summit with Chinese President Xi Jinping and as the two nations restart maritime talks.
Territorial disputes and disagreements over Japan's occupation of large parts of Asia in the first half of the 20th century have caused fractious ties with China and South Korea. Sources of tension include the facts about so-called comfort women trafficked to Japan's military brothels and the nature and size of the 1937 Nanking massacre by the Imperial Army.
Overseas trips are "an effective opportunity for the Japanese government to send a unified message about what kind of country Japan aspires to be, which will surely be reflected in the statement Abe will issue this August," said Yuki Tatsumi, senior associate of the East Asia program at the Stimson Center in Washington.
Deteriorating relations not only raise the risk of confrontation in their territorial spats, but threaten to hamper trade between three of Asia's biggest economies. Total trade between Japan and its two neighbors reached almost $440 billion in 2013. Japan is China's biggest Asian trading partner and South Korea's second largest after China.
Statement's Significance
Yoshihisa Inoue, the secretary-general of Abe's Buddhist-backed coalition partner Komeito, highlighted the significance of Abe's planned statement.
"It's important to send a message that we will stick to an exclusively defensive security posture, will not become a major military power and will maintain our anti-nuclear principles," Inoue said in an interview Tuesday.
Japan's views of its past may be more controversial than its aspirations for the future. The government's campaign to combat accusations over its wartime record have included asking publisher McGraw-Hill to change a reference to the comfort women in a U.S. textbook, top government spokesman Yoshihide Suga said Monday.
'Distorting' History
"If he really cares about his country, Abe should make an apology to all for its past actions, make it sincere and show that sincerity through his words and deeds," the China Daily newspaper said in a commentary published Monday.
Cai Hong, the paper's Tokyo bureau chief, accused Abe of "distorting history" and "whitewashing" Japan's past atrocities in Asia.
Hong was writing in response to a Jan. 14 report in the Mainichi newspaper that Abe may visit Pearl Harbor this year to pay his respects to those killed in Japan's 1941 attack on the U.S. naval base. Suga last week rejected the report.
"Since the end of the Second World War, Japan has concentrated earnestly on building a nation that values freedom and democracy, human rights, and the rule of law," Kishida said in his New Delhi speech on Jan. 17. The war anniversary will be one of the main themes of his trip to India and Europe, according to Foreign Ministry documents.
"You have to accept the consequences of the statement to be made by the prime minister," Hitoshi Tanaka, senior fellow at the Japan Center for International Exchange in Tokyo and a former diplomat, told reporters on Jan. 16. "If it's interpreted as changing the basic content of Prime Minister Murayama's statement, that will have a negative impact."
Murayama Statement
In the 1995 statement, then-premier Tomiichi Murayama offers an apology for a "mistaken national policy" and "colonial rule and aggression" that caused "tremendous damage and suffering."
A survey published by the Mainichi newspaper on Monday found 50 percent of respondents said Japan should uphold the Murayama statement, while 34 percent said there was no need to do so. The newspaper polled 1,012 people between Jan. 17-18.
Katsuya Okada, who returned to the leadership of the main opposition Democratic Party of Japan on Sunday, said in a Jan. 7 interview that he was concerned Abe would skate over details in his new statement.
"Mr Abe has never clearly admitted the colonial rule and aggression parts," Okada said. "His stance is that he upholds them as a whole, so I am paying close attention to his thinking."
Before it's here, it's on the Bloomberg Terminal.
LEARN MORE