Hong Kong Creates Cadets Modeled After PLA, China Daily Says
Tan Hwee Ann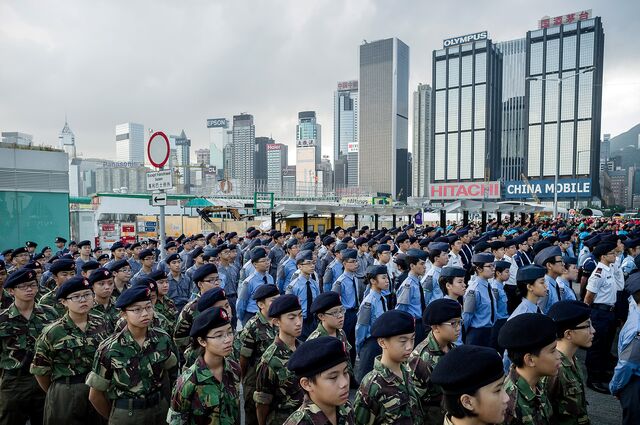 Hong Kong inaugurated a student cadet group that will practice Chinese army foot drills and wear similar uniforms, as almost three months of pro-democracy protests led to increased scrutiny of the city's youths.
Dozens of students from universities and secondary schools joined the Hong Kong Army Cadets group at a ceremony yesterday in the Ngong Shuen Chau Naval Base in the city, the state-run China Daily reported today.
"The new voluntary uniformed youth group aims to promote civic awareness, a sense of responsibility and rights as Chinese citizens, and personal qualities such as perseverance, self-discipline and leadership among youngsters," the newspaper said.
The newly created cadet group highlights China's rising concern with Hong Kong students, who led the unprecedented protests last quarter seeking to remove Chinese limits on the city's election. Hong Kong Chief Executive Leung Chun-ying last week criticized a university publication in his annual policy address for advocating self-determination, and said young people need to be guided better.
Leung's wife, Regina, is the cadet group's commander, while former Hong Kong Chief Executive Tung Chee-hwa is its honorary chairman, the China Daily reported. The oath-taking ceremony was also attended by Zhang Xiaoming, the director of China's liaison office in the city.
Other than pledging to care for others and to build Hong Kong, the students also agreed to serve the country, the newspaper said.
PLA Uniform
The uniform worn by the cadets is a brighter shade of the green summer uniform of the People's Liberation Army Ground Force, China Daily reported.
The creation of the cadet group doesn't mean the People's Liberation Army is interfering in Hong Kong affairs, the city's Secretary for Home Affairs Tsang Tak-sing told reporters today.
When asked if the pledge to serve the nation is a form of indoctrination, Tsang said uniform groups normally have pledges and the PLA is just providing some training.
Only a few media outlets were invited to cover the event, the South China Morning Post reported today. Anyone older than six years old can apply to join the group, it said.
As many as 100,000 people took to the streets last year, occupying swathes of the city as they demanded China removes a requirement to screen candidates for Hong Kong's first chief executive election in 2017. The 11 week-protests, led by university students, were the biggest challenge to Chinese sovereignty of the city since its return from British colonial rule in 1997.
Before it's here, it's on the Bloomberg Terminal.
LEARN MORE