Gucci Said to Have Appointed Alessandro Michele as Creative Head
Andrew Roberts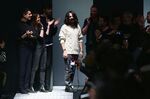 Gucci has appointed accessories designer Alessandro Michele as its next creative director, succeeding Frida Giannini as the head of the fashion brand, people familiar with the matter said.
Francois-Henri Pinault, chief executive officer of Gucci-owner Kering SA, has approved the appointment, said the people, who asked not to be identified discussing company affairs. He attended Gucci's men's fashion show yesterday in Milan, which was overseen by Michele.
Pinault is entrusting a little-known designer with the biggest creative role in his luxury portfolio. Sales have barely grown at the $4 billion brand in more than a year amid an industrywide slowdown.
Michele, 42, gave a flavor of his vision for Gucci yesterday after Giannini's earlier-than-anticipated departure this month. He led a team of designers to produce the menswear collection featuring silk blouses, capes and berets. The procession at the Milan show was accompanied by music from the film A Single Man, directed by Giannini's predecessor Tom Ford, who is credited with making Gucci sexy.
Michele worked as an associate to Giannini, overseeing leather goods, shoes, jewelry and homeware. In September, he added the role of creative director of porcelain maker Richard Ginori 1735 SpA, which Florence, Italy-based Gucci bought in 2013.
Kering has promoted from within its ranks for the top design jobs before. Giannini headed leather goods and women's ready-to-wear at Gucci before taking the creative director role. Paris-based Kering promoted Sarah Burton to lead its Alexander McQueen label after McQueen's death.
Kering announced the end to Giannini's nine-year stint as creative director in December and hastened her planned departure after Marco Bizzarri became CEO this month.
Before it's here, it's on the Bloomberg Terminal.
LEARN MORE