markets
Denmark Says It Has Tools to Defend Peg After Surprise Cut
Peter Levring and Frances Schwartzkopff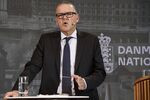 Denmark moved to quash speculation it may follow Switzerland and abandon its euro peg, delivering a surprise interest-rate cut to prevent the krone gaining further.
"We have the necessary tools to defend the peg," Karsten Biltoft, head of communications at the Copenhagen-based central bank, said by phone. Asked whether Denmark could ever consider abandoning its currency peg, he said, "Of course not."
Since the Swiss National Bank shocked markets on Jan. 15 by jettisoning its three-year-old euro peg, Scandinavia's biggest banks have fielded calls from hedge funds and other offshore investors asking whether Denmark could be next. Danske Bank A/S has sought to dispel the speculation, noting Denmark's three-decades-old currency regime is backed by the European Central Bank, unlike the SNB's former system.
"The comparison that is made between Denmark and Switzerland I think is somewhat off," Biltoft said. "I don't think you can make a comparison between the two cases."
The Danish bank today cut its deposit rate to minus 0.2 percent, matching a record low, from minus 0.05 percent and lowered its lending rate to a record 0.05 percent from 0.2 percent. While the bank can adjust rates at any time, it traditionally announces changes on Thursdays and mostly in connection with ECB moves.
Today's cuts "underline the fact that the inflow has been pretty massive since they decided to move on a Monday," said Arne Lohmann Rasmussen, head of fixed-income research at Danske Bank. "We should price in a probability of a new cut on Thursday, especially if the FX intervention continues."
ECB QE
The krone was little changed at 7.4345 per euro as of 4:19 p.m. in Copenhagen. Based on closing prices, it traded at the strongest since 2004 before the cut. The Swiss franc surged last week while Denmark's krone rose to its strongest since July 2012. Besides abandoning the euro peg, the SNB also cut its main rate to minus 0.75 percent from minus 0.25 percent.
Governor Lars Rohde said late last year that Danish rates were under pressure as the ECB prepares to start its program of quantitative easing. His job is to target 7.46038 kroner per euro. While the bank's official tolerance band is 2.25 percent, in practice it has stayed within about 1 percent of the target.
ECB policy makers will this week meet to discuss the purchase of government bonds. The Danish cut means depositors will have to pay more to park their cash at the central bank. AAA-rated Denmark first tested negative rates in July 2012 to fight back a capital influx during Europe's debt crisis.
Unlike the Swiss Franc, the Danish currency plays a minor role in the global markets. The krone accounted for 0.8 percent of global currency trading in 2013, according to a triennial survey by the Bank for International Settlements. The Swiss franc had a 5.2 percent share.
The Danish government said that speculators were wrong in questioning the country's commitment to the peg.
"It doesn't make any sense to compare the short-term, one-sided Swiss currency peg with the long-term Danish fixed-rate regime, which has been in place since 1982 and is a bilateral agreement between Denmark and the euro area," Economy Minister Morten Oestergaard said in a phone interview.
(Updates with comment from Economy Minister in last paragraph.)
Before it's here, it's on the Bloomberg Terminal.
LEARN MORE