Ukrainian Separatists Attack Airport as Kiev Sends Troops
Daryna Krasnolutska and Leon Mangasarian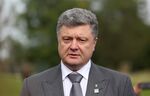 Pro-Russian militants resumed their assault on Ukrainian government soldiers at Donetsk airport as President Petro Poroshenko sent more troops to the country's eastern conflict zone.
Ukrainian soldiers were holding their positions at the airport, repelling a "full-scale storm" from the separatists, Yuriy Biryukov, a military adviser to Poroshenko, said on his Facebook page today. The fighting was continuing at 8 p.m. local time, according to a Defense Ministry statement.
"There is a fierce fight and the situation has gotten worse since the end of September," Biryukov said, with one Ukrainian soldier killed and 11 wounded there today. "There is a clear decision that we keep the airport."
Ukraine said yesterday that cease-fire violations had surged to a record since the beginning of the year, while the nation's security council warned the unrest may spark a "continental war."
The upsurge in violence recalls the peak of the nine-month conflict, which has killed more than 4,800 people and poisoned Russia's ties with its former Cold War foes. Russia rejects accusations by Ukraine, the U.S., the European Union and NATO that it's meddling in the conflict by sending troops and weapons.
Immediate Meeting
Poroshenko and German Chancellor Angela Merkel have called for an immediate meeting of the contact group that includes Ukraine, Russia and the Organization for Security and Cooperation in Europe.
A gathering of the contact group, which failed to take place today in Minsk, the capital of Belarus, should be followed by meeting of French, German, Ukrainian and Russian foreign ministers, Poroshenko said in a statement on his website after a phone talk with Merkel.
The key pre-conditions for further peaceful talks are closure of the Ukrainian-Russian border, the withdrawal of heavy weaponry and the release of all hostages, according to the statement.
Merkel said Jan. 14 there is insufficient agreement between Russia and Ukraine to hold a multi-nation summit.
Reinforcement, Equipment
"Russia and the separatists have been pretty active bringing in reinforcement and equipment, so the resumption of fighting isn't a surprise," Joerg Forbrig, senior program director at the German Marshall Fund of the U.S. in Berlin, said by phone today. "Merkel and Hollande have made it very clear that unless there is some kind of material progress to discuss there won't be a summit. Merkel won't invest any political capital in a summit unless she sees progress."
Poroshenko also met with Ukrainian Prime Minister Arseniy Yatsenyuk to discuss escalation in the east, including the situation at the airport, according to a separate statement. Six servicemen were killed and 18 were wounded during last 24 hours, the Defense Ministry in Kiev said.
Separatist leader Oleksandr Zakharchenko said yesterday his forces control 95 percent of the airport, which has become a focal point of the fighting.
Adding Reserves
"The well-timed adding of reserves" helped to counter the rebels' assault, Poroshenko said today in a statement on his website. "Ukrainian troops are currently regrouping and new units are being added at the most dangerous locations."
As the violence escalates, lawmakers in Kiev yesterday backed a partial mobilization for next week. Russian Foreign Minister Sergei Lavrov said today that the move undermines peace agreements, which were signed in Minsk in September.
Ukraine's dollar-denominated bond maturing July 2017 declined, pushing the yield up 9 basis points to 34.92 percent as of 4:09 p.m. in Kiev, data compiled by Bloomberg show.
Before it's here, it's on the Bloomberg Terminal.
LEARN MORE