Supporters Won't Give Up on Warren Just Yet
Even though the senator says she's not running for president, Supporters took out two full-page ads in New Hampshire begging Warren to get in the race.
By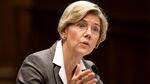 Elizabeth Warren may have tried yet again this week to put the kibosh on speculation she'll run for president, but her supporters aren't even close to giving up.
Political action group Run Warren Run took out two full-page ads in newspapers in the key primary state of New Hampshire on Friday. They implored the  Massachusetts senator to "please run for president."
"New Hampshire wants you in our primary," declares the ad, which ran in the New Hampshire Union Leader and Concord Monitor in advance of the campaign's Saturday launch in the state.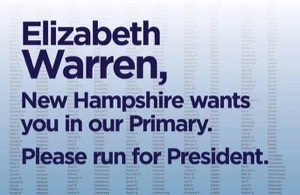 The ad comes just days after Warren said in an interview in Fortune magazine that she will not run.
The campaign, which is joint effort of MoveOn.org and Democracy for America, said it's "building this effort to convince Senator Warren to change her mind."
"There is a grass-roots army ready to knock on doors and do phone calls and do everything necessary to help her win," said Neil Sroka, communications director for Democracy in America. "She shows the leadership that you'd want in a presidential candidate and in a president of the United States."
Sroka said he didn't know how much the ads cost. but "they weren't cheap."