Hillary Clinton Defends Dodd-Frank
Jonathan Allen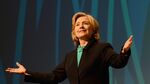 Hillary Clinton is defending the Dodd-Frank Act as Republicans in Congress look for ways to water down the overhaul of financial regulation and some fellow Democrats accuse her of being too cozy with Wall Street.
"Attacking financial reform is risky and wrong," Clinton, a former U.S. Secretary of State who's considering a White House run in 2016, wrote Friday in a Twitter message. "Better for Congress to focus on jobs and wages for middle class families."
Clinton, who has been quietly building a campaign team in recent weeks, is expected to announce a second run for the presidency in the next few months. Her Twitter message ends a period of relative silence for Clinton, whose potential Republican rivals -- including former Florida Governor Jeb Bush, 2008 Republican nominee Mitt Romney and Kentucky Senator Rand Paul -- are jockeying for early position.
The tweet came two days after House Republicans made one of their first attempts in the new Congress to roll back Dodd-Frank constraints on Wall Street, in what's poised to become a recurring battle with Democrats who oppose changing the law. The House passed a bill that would delay aspects of the Volcker Rule restriction on banks making risky investments, a bill that President Barack Obama has promised to veto.
Clinton's message addresses a possible weakness she has that has been highlighted by the populist stands of Senator Elizabeth Warren, a Massachusetts Democrat who has said she won't challenge Clinton for the Democratic nomination. Warren's opposition to Wall Street banker Antonio Weiss for a key Treasury Department post prompted him to withdraw his name from consideration this week.
Millions Raised
Polls have shown that many of Clinton's fellow Democrats are worried that she favored Wall Street too much during her time as First Lady, senator from New York, secretary of state and philanthropist.
Clinton has raised tens of millions of dollars from donors in the financial industry to support her political campaigns, initiatives of the State Department and the Bill, Hillary and Chelsea Clinton Foundation.
An earlier attempt by Clinton to show solidarity with the anti-Wall Street sentiments of some Democrats fizzled.
"Don't let anybody tell you that it's corporations and businesses that create jobs," she said in October at a rally for Massachusetts gubernatorial candidate Martha Coakley that was also attended by Warren.
Clinton later clarified to say that she meant that giving tax breaks to businesses that ship jobs overseas doesn't create jobs in the U.S.