Xiaomi Puts a Windfall to Work Beyond Phones
Edmond Lococo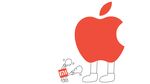 In China, Xiaomi smartphones outsold Apple and Samsung within three years of the first model's 2011 release. Last year, Xiaomi's sales more than tripled, to 61.1 million smartphones, making it the world's No. 3 phone manufacturer in the third quarter. Now valued at $45 billion, the private company is flush with cash and is spending big in an effort to expand into other devices.
Xiaomi announced in December that it had raised $1.1 billion from investors, including Russian Web pioneer Yuri Milner. Since November the company has also participated in more than $600 million worth of investments in cloud services, online video, and health-tracking accessories companies, and announced undisclosed stakes in more than two dozen startups. "Investing in startups will allow us to build other types of hardware without doing all of the design and development," says Xiaomi President Bin Lin. Founder and Chief Executive Officer Lei Jun has also committed to spending $1 billion on digital entertainment for Xiaomi's devices, including its phones, Web-connected TVs, and video-streaming Mi Boxes.
In November, Xiaomi said it would invest in Youku Tudou, China's most popular streaming-video site. About a week later it teamed up with Lei's investment firm, Shunwei Capital Partners, to invest $300 million in Baidu's video website, IQiyi. Soon afterward, Xiaomi joined a $296 million round of funding for cloud services company 21Vianet Group and was part of a $40 million investment in Misfit Wearables, its first investment in a U.S. company.
Lin says Xiaomi's main areas of focus are mobile devices, Internet-connected TV equipment, and wireless routers. The company is also investing in startups that make everything from air purifiers to low-energy lightbulbs. "Xiaomi is expanding into the smart home and following the lead of Apple, Samsung, and others," says Neil Mawston, executive director of researcher Strategy Analytics. "We expect Xiaomi to build an ecosystem of Mi devices and apps for the home, office, and car."
Like Apple and Samsung, Xiaomi aims to persuade customers to use the company's products together. It has supplemented its highly customized version of Google's Android operating system with its own popular apps for messaging, restaurant reviews, movie ticket purchases, package tracking, and medical appointments. "Most other Android players are not software companies; they have hardware DNA," says James Roy, an analyst at China Market Research Group. "Xiaomi seems to be different." The custom-made apps played a big role in helping Xiaomi flourish in China, where Google is largely absent, says Neil Shah, a research director at analyst Counterpoint Technology Market Research. At an Internet conference in the southern Chinese town of Wuzhen in November, Lei said his company has the chance to surpass Apple and Samsung to become the world's top smartphone maker in 5 to 10 years. Spokeswomen for Apple and Samsung declined to comment.
Despite Xiaomi's dizzying rise, taking the top spot wouldn't be easy. Lenovo's acquisition of Motorola Mobility will likely push Xiaomi back down to No. 4. Competing outside China will be a challenge for the company until it proves its apps and devices—and its new investments—work as well together as those of its larger rivals, Shah says. "Xiaomi has done a fair bit to differentiate itself," he says. "But Xiaomi has its work cut out to develop the scale of applications, software, and services to fight the big giants."
The bottom line: Xiaomi, which raised $1.1 billion in December, is pouring money into its own investments.
Before it's here, it's on the Bloomberg Terminal.
LEARN MORE