politics
The California Measles Outbreak and the Least-Happy Debate on Earth
Public health officials urge vaccines in the wake of illnesses among theme park visitors, but it may not make a difference.
By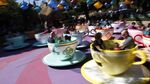 The infection tally in a measles outbreak linked to Disney park visitors hit 32 on Wednesday, according to the Los Angeles Times, including 28 infections in California and four in three other states.
In a lot of ways, this resembles the Ebola scare that took over cable news before the midterm elections: The outbreak involved a public place; a patient reportedly flew commercially before getting diagnosed; and health officials are monitoring more people for possible exposure.
One of the biggest differences: A vaccine is available that is "more than 99 percent effective in preventing measles," according to the California Department of Public Health. It's known as the measles, mumps, and rubella shot (MMR).
Health officials are encouraging people to become immunized. "The best way to prevent measles and its spread is to get vaccinated," Ron Chapman, director of California's Department of Public Health (CDPH), said in a statement Jan. 7. The Orange County Health Care Agency's Nicole Stanfield said officials "anticipate more cases."
But Disneyland's home state is the site of a growing anti-vaccine movement. According to the Orange County Register, in 2014 the county had 22 cases of measles by April, nearly half of the 49 cases in the state at the time. On Wednesday, Orange County reported a measles case in an unvaccinated high schooler that was unrelated to the Disneyland outbreak. 
Many anti-vaccine activists are unconvinced by the Centers for Disease Control and Prevention's guidelines about the importance of vaccinating children against the "very contagious" measles, or its assurance that no link between the vaccine and autism has been found.
The problem isn't limited to the OC. As the Atlantic reported in September, some Los Angeles county schools have vaccination rates "as low as South Sudan's." Several of the Disneyland cases involved people who were old enough to be vaccinated but hadn't been, according to the CDPH; they included the commercial flight passenger, according to the Times.
"I think parents that have chosen not to vaccinate realize that they are taking somewhat of a risk, but it's a calculated risk," Rebecca Estepp, who said her son suffered a bad reaction to a vaccine, told CBS News in a story about the Disneyland outbreak. "They may have seen a vaccine injury in their own families or by their own neighbors and they're just questioning." Anti-vaccine blogs have also lit up, with some arguing that vaccination may have contributed to the outbreak and that measles has some medical benefits.
And research has suggested that trying to debunk unscientific vaccine theories can actually backfire. In an article published in the journal Pediatrics in 2014, researchers reported:
Refuting claims of an MMR/autism link successfully reduced misperceptions that vaccines cause autism but nonetheless decreased intent to vaccinate among parents who had the least favorable vaccine attitudes. ... Current public health communications about vaccines may not be effective. For some parents, they may actually increase misperceptions or reduce vaccination intention. Attempts to increase concerns about communicable diseases or correct false claims about vaccines may be especially likely to be counterproductive. 
Before it's here, it's on the Bloomberg Terminal.
LEARN MORE