Oil Plunge May Draw Norway Stimulus as PM Meets Central Bank
Saleha Mohsin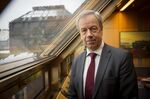 Norway may be close to unveiling a stimulus package designed to shield western Europe's biggest oil exporter from plunging crude prices.
Speculation an announcement is pending follows an emergency meeting that Prime Minister Erna Solberg has convened with central bank Governor Oeystein Olsen tomorrow morning to discuss the country's response to lower oil prices. Finance Minister Siv Jensen will also be present, according to an e-mailed statement from the prime minister's office.
"Considering the headwinds Norway is facing from the sharp downshifting capital spending cycle within the petroleum industry, it is likely that we will see new measures being announced," said Erica Blomgren, chief strategist at SEB AB.
Solberg and Jensen will meet with Olsen at the central bank to hear his "evaluation of the Norwegian economy's ability to adapt," the prime minister told Dagens Naeringsliv.
Solberg and Olsen will enter the meeting equipped with the latest oil investment data, which show a predicted 15 percent drop for this year, and further declines through 2017. Plunging oil prices probably mean Norway's oil industry will need "to implement significant cost cuts," Bente Nyland, director general for the Norwegian Petroleum Directorate, said in a statement.
Krone Defense
The last time the government held a similar meeting with the central bank was in 2008, and it then later unveiled a multi billion-dollar package to protect Norway from the fallout of the global credit crunch.
Solberg said last week the government is "on alert" and ready to "react quickly" if the economy starts to deteriorate at a fast pace. The weaker currency, together with monetary policy measures, will be the first line of defense, Jensen said on Tuesday.
A 59 percent drop in Brent crude since a June high is threatening growth in an economy that relies on fossil fuels to generate more than one-fifth of its output. The krone has lost 25 percent against the dollar over the same period, offering relief non-oil exporters including Yara International ASA and Norsk Hydro ASA.
Norges Bank in December cut its main interest rate for the first time in almost three years and signaled a 50-50 chance for another cut early this year, saying Norway risks a "severe downturn" because of oil prices.
While the budget, released in October, has room for more stimulus, "the situation is currently not bad enough to warrant aggressive fiscal policy measures," Blomgren said.
Anything further than preparation "would be a policy error considering the large uncertainty regarding negative spill-over effects in the mainland economy," she said.
Before it's here, it's on the Bloomberg Terminal.
LEARN MORE