Jane the Virgin's Minority Themes Make It a Serious Sitcom Hit
By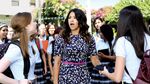 Jane the Virgin often feels like a soap opera, full of secret identities, love triangles, and over-the-top twists. But the show, which airs on Mondays at 9 p.m. on CW, is more accurately a soap satire—with a snappy script by a former Gilmore Girls writer and an unseen narrator who mocks the show's implausibility. (Sample voice-over: "And so Jane explained that a man professing his love on a yacht, in the snow, in front of a semirealistic background, was the epitome of romance.") Based on a Venezuelan show of the same name, it's basically a telenovela for people who hate telenovelas.
The sitcom has also become this season's biggest sleeper hit. According to Nielsen, roughly 1.9 million people, 68 percent of them female, tune in every week, making it CW's biggest show in years. The network's twentysomething audience has slipped away of late as millennials who watched Gossip Girl and The Vampire Diaries abandoned traditional networks for streaming content. CW, jointly owned by Warner Bros. and CBS, was losing as much as $100 million a year, says the New York Times. It needed better programming. Jane filled that void: The show will return on Jan. 19 with a Golden Globe win for its lead actor, Gina Rodriguez.
Much of the show's appeal comes from Rodriguez's portrayal of Jane, a 23-year-old devout Catholic who's saving herself for marriage. In the first episode, she gets accidentally inseminated with the sperm of a sexy millionaire she kissed years ago. It sounds ridiculous, and it is. But Rodriguez is charming, not grating like other romcom stars. The clean-cut Latina she plays is reminiscent of the lead from ABC's Ugly Betty in the mid-Aughts, also adapted from a telenovela. It's no coincidence: The creator of Ugly Betty, Ben Silverman, is the executive producer of Jane the Virgin.
Silverman's new show is more firmly grounded in Latin culture than its forebear. There's a lot of salsa dancing, empanadas, and even a fictional telenovela the characters love. Mexican pop singer Paulina Rubio guest stars. And most episodes explore issues related to Catholicism, language barriers, or immigration. "We wanted Jane's Latin culture to remain intact … not make it too mainstream," Silverman says. Betty identified as being from Queens and spoke almost entirely in English, but the Miami residents of Jane the Virgin continually switch between English and Spanish (with some subtitles).
Although 17 percent of the U.S. population is Hispanic, their political issues and personal struggles rarely show up in prime time. According to a 2014 Columbia University study, only 3 percent of supporting film or TV roles go to Hispanic men. Less than 10 percent go to women. It's improving, if slightly: Orange Is the New Black has been a boon for Latina actors and audiences. Actors Eva Longoria and Sofía Vergara have started production companies and are workshopping pilots. Yet Vergara's Modern Family character is a stereotypical hotheaded woman with a sexy mien. And Longoria's most successful production, Lifetime's Devious Maids, is about a group of Beverly Hills housekeepers. "You're starting to see Latin entertainers becoming a bigger cultural force," Silverman says. "But most people only play lip service to it."
So, as Jane the Virgin thrives, it's gotten less soapy. In one January episode, an emergency room doctor discovers that Jane's grandmother is in the country illegally and says he can't treat her. Instead, he'll have to call immigration services. "Is that legal?" Jane's mother asks. Then these words flash across the screen: "Yes, it really happens. Look it up. #immigrationreform."
Before it's here, it's on the Bloomberg Terminal.
LEARN MORE