A Contrarian Call for Another Low-Rate Year
By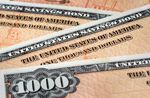 Steven Major did something most people didn't: He got the bond market right in 2014. While many Wall Street bond forecasters said yields on 10-year Treasuries would approach 4 percent, Major, the London-based head of fixed-income research at HSBC Holdings, correctly predicted in August 2013 they would drop to about 2.1 percent by the end of 2014. "Some investors thought we were completely bonkers," he says. One client called urgently while Major was on a trip to Dubai because he thought 2.1 percent was a typo.
This year, Major is defying the consensus again. Wall Street sees the bond market headed for a big selloff: Accelerating growth, the argument goes, will lead the Federal Reserve to start raising interest rates to make borrowing more expensive and keep the economy from overheating (bond prices fall when rates move higher). The median estimate of 74 forecasters in a Bloomberg survey is that the 10-year Treasury yield will hit 3 percent by yearend. Major says yields will keep dropping, possibly to as low as 1.5 percent, before turning up to end the year at 2.5 percent. The yield stood at 1.9 percent on Jan. 13.
Major says central banks won't raise rates while global growth remains weak. He says economic weakness will persist in part because of the vast amounts of debt governments took on during and after the financial crisis. The global government bond market has ballooned more than 40 percent to $100 trillion as nations bailed out banks and plunging tax receipts deepened deficits.
Major draws parallels between the state of things today and the years immediately after World War II, when slow growth pinned Treasury yields below 2.5 percent, on average, for 10 years. Globally, public debt reached 108 percent of gross domestic product in 2012, a level not seen since World War II ended, according to the International Monetary Fund. Even after some nations adopted austerity measures, the ratio will be 106 percent this year, says the IMF.
In the 1940s, central banks bought bonds to finance the war and the subsequent rebuilding of Western Europe under the Marshall Plan—helping to keep rates low. Since the economic crisis, the Fed and other major central banks have bought $10 trillion of bonds, according to Deutsche Bank analysts. The value of the Fed's bond holdings is equal to about 24 percent of U.S. GDP, exceeding the post-World War II high of 20 percent, data compiled by HSBC show. The Bank of England holds debt equal to about 30 percent of U.K. GDP. "We have a backdrop that's more like the 1940s, when governments were saddled with debt after the war and central banks held a big proportion," Major says.
Still, most Wall Street forecasters see yields rising this year. With the price of crude oil below $50 a barrel, lower fuel bills will act as a tax cut and boost growth, says Mark Dowding, the co-head of investment-grade bonds at BlueBay Asset Management. "People are extrapolating low oil prices to mean economic slowdown, but we disagree," he says. Dowding expects 10-year yields to rise toward 3 percent as the Fed lifts rates from close to zero, which economists say will happen in the third quarter.
Making the right call for last year has had at least one perk, Major says: fewer unannounced phone calls from skeptical clients. "Sometimes forecasts are right for the wrong reasons and/or have had bad timing, but this one was spot on," he says. Making forecasts for a living means there's always the risk of being wrong, he adds, so when one goes well "we should enjoy it while it lasts."
The bottom line: HSBC's Major sees 10-year Treasury yields ending the year at 2.5 percent, well below the Wall Street consensus.
Before it's here, it's on the Bloomberg Terminal.
LEARN MORE