China Nickel Buying Tempted by London Prices: Chart of the Day
Bloomberg News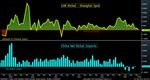 China may swing back to being a net importer of refined nickel as benchmark prices in London dropped below those in Shanghai for the first time in almost three years.
"Nickel prices in China have been more resilient than those in the overseas market," said Celia Wang, an analyst at Beijing Antaike Information Development Co. "Supply is getting gradually tighter in China, so imports will rise in the coming months as the price gap narrows."
The CHART OF THE DAY tracks the price spread between nickel for delivery in three months on the London Metal Exchange and the spot price in China. The LME benchmark this month was cheaper for the first time since May 2012, based on prices converted into yuan and including taxes. The lower panel shows how China, which had been a net importer almost continuously from 2008 to mid-2014, has switched its trade position.
The spot price in China rose 1 percent since the end of October as of 4:52 p.m. Shanghai time yesterday, versus a 7.7 percent loss on LME contracts. That's made it profitable for Chinese traders to import and sell the metal domestically. Net imports were 792 metric tons in November compared with net exports from August to October, according to the latest data available from the country's customs agency.
Chinese demand for imported refined nickel, used to make stainless steel, rose after Indonesia's export ban on ores last January cut supply of the raw material to China, the world's biggest user and producer of the metal. Amid shrinking ore supply, Chinese producers of nickel pig iron, a lower-grade alternative to refined metal, will reduce output by 15 percent to 388,000 tons in 2015 and further to 298,000 tons in 2016, Morgan Stanley estimates.
Imports fell in the middle of last year after the use of metals as loan collateral waned following a loan-fraud probe at the Chinese port of Qingdao, according to Antaike's Wang.
— With assistance by Alfred Cang
Before it's here, it's on the Bloomberg Terminal.
LEARN MORE