Obama, Republicans Stalemated on Keystone Amid Cooperation Vows
Angela Greiling Keane and Mike Dorning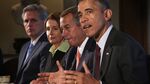 President Barack Obama and Republican congressional leaders gave no ground on their differences, including the Keystone XL pipeline and immigration, even as they pledged to find common ground over the next year.
With Republicans now in control of the House and Senate, Obama met at the White House today with congressional leaders from both parties. The president has issued five veto threats since the beginning of the year.
"There was some suggestion made that it would be helpful if the president didn't threaten vetoes so early on in the process," Senator John Thune, the chamber's third-ranking Republican, said. "But unfortunately, he's pretty dug in on some of those issues."
Among them is legislation moving through Congress that would bypass the administration's review of TransCanada Corp.'s proposal to build Keystone. Thune said Obama gave no sign of backing off his vow to veto the bill.
In brief remarks to reporters before the meeting began, Obama focused on several areas where he and congressional Republicans have some common interests, ticking off a list of priorities including enhancing cybersecurity, boosting trade, reworking the tax code and streamlining government.
"Obviously there are disagreements around the table on a whole range of issues, but there are also areas where we can agree, and that's where we're going to be focused," he said.
Republican Legislation
Republicans are advancing bills to approve Keystone, ease Obamacare's requirement for employer-provided insurance, require more justification and notice of regulatory changes, alter a key provision of the Dodd-Frank Act, and block Obama's action to end the deportation threat for about 5 million undocumented immigrants. Obama has threatened to veto all of them.
House Speaker John Boehner of Ohio said in a statement after the meeting that Republicans had no plans to pull back on their initiatives. Thune said Obama shouldn't be so quick to threaten vetoes.
"Give the process a chance to play out, give the legislative branch of the government a chance to be heard from and then we'll see where it ends up," he said.
White House press secretary Josh Earnest faulted Republicans for "recycling old legislation that they know that the president strongly opposes."
Cybersecurity
One area where both sides said they may find agreement is bolstering computer and network security. The president plans to submit legislation to Congress today that would give companies legal protections for sharing information about hacking threats with each other and the government.
Republican Senate Majority Leader Mitch McConnell of Kentucky said the chamber is "going to make another run" at cybersecurity legislation. He also said he believes a bipartisan deal on trade is possible.
The president said at the beginning of the meeting he wanted to focus on the economy, saying the latest jobs report "indicates that the recovery continues to move in a robust fashion."
"We're in a position to make sure that 2015 is an even stronger year," he said.
Obama will lay out his agenda in next week's State of the Union speech and in the fiscal 2016 budget he's scheduled to release on Feb. 2.
One of the top lawmakers missing from the meeting was Senate Minority Leader Harry Reid, a Nevada Democrat. He's still recovering from broken ribs and bones in his face and a concussion suffered in an accident while exercising. Reid, 75, sent his top lieutenant Richard Durbin, an Illinois Democrat, in his place.