It Never Ends for Wendy Davis
The Texas Democrat's successor mocks her with cowboy boots.
By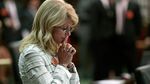 It was one of the most schadenfreude-rich sidebars of the 2014 elections. Texas state Senator Wendy Davis, who by general agreement ran a horrid campaign for governor, vacated her Fort Worth-area seat. Tea Party activist Konni Burton, a veteran of U.S. Senator Ted Cruz's campaign, ran to replace her. Burton won, fairly easily, after promising to replace a pro-choice vote with a pro-life one.
"The reason I got in was because of this fiscal mess our country is in," Burton told reporter Betsy Woodruff in 2013. "But if she wants to make this about life, bring it."
Burton is being sworn in Tuesday. In the morning, with no other comment, she updated her Facebook page with a photo of the boots she'd be wearing. She meant to exorcise the memory of the pink sneakers Davis wore when filibustering a 2013 abortion bill.
If the text is hard to read, it says this: "Stand for Life."