Could de Blasio's NYPD Problem Cost the City the Democratic Convention?
When police have taken a starring role at the parties' quadrennial festivals, things have not gone well.
By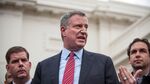 Bill de Blasio is on the hunt for "beautiful faces ;)." New York's Mayor is behind the bid to host the 2016 Democratic National Convention, in Brooklyn, and a staffer from his Community Affairs Unit has sent out a call for "everyday New Yorkers," in their motley, swaggering glory, to star in a pitch video.