Alcoa Sees 7% Gain in Aluminum Use on Autos, Aerospace
Liezel Hill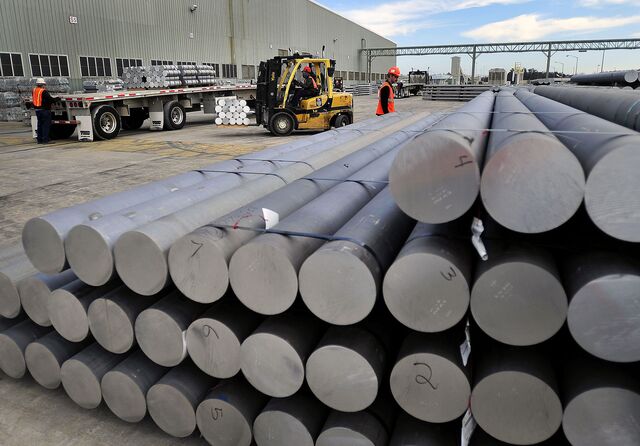 Alcoa Inc., the largest U.S. aluminum producer, sees world demand growing 7 percent this year as automakers use more of the lightweight metal and orders from the aerospace industry accelerate.
Demand for commercial and regional jets will help boost global aerospace sales as much as 10 percent, the New York-based company said yesterday as it reported fourth-quarter earnings and revenue that beat analysts' estimates. It also predicted U.S. auto sales will rise 5.8 percent in 2015. Alcoa shares rose.
Consumption exceeds output in Europe and the Americas, helping support prices despite a projected surplus in China, said Brian Yu, a San Francisco-based analyst at Citigroup Inc. "You've got healthy demand trends," Yu said in an interview.
Demand for the metal is picking up in the auto industry as manufacturers focus on saving weight to boost fuel efficiency, with Ford Motor Co. introducing its all-aluminum F-150 pickup in November. Despite the slump in energy prices in recent months, that trend will continue, Chairman and Chief Executive Officer Klaus Kleinfeld said yesterday on a conference call with analysts. Automakers "need it and the consumers like it," he said.
Dollar Strength
Alcoa, the first company in the Standard & Poor's 500 Index to publish earnings for the quarter, had net income of 11 cents a share, compared with a loss of $2.19 a year earlier. Profit excluding one-time items was 33 cents a share, exceeding the 27-cent average of 19 estimates compiled by Bloomberg.
Sales rose 14 percent to $6.38 billion, compared with the $6.05 billion average estimate.
The company also benefited from higher prices for aluminum and alumina, a stronger dollar, and shipped a record volume of automotive aluminum sheet.
The earnings were published after the close of trading in New York yesterday. The shares fell 1.2 percent to $15.97 at 11:15 a.m. today. They have advanced 58 percent over the past 12 months while the S&P 500 has climbed 13 percent.
Michael Gambardella, an analyst at JPMorgan Chase & Co., reduced his price target for Alcoa to $22, from $25.50, and lowered earnings estimates, partly to reflect current aluminum prices. The commodity has declined 2.8 percent on the London Metal Exchange since the start of the year.
Alcoa's weaker-than-expected forecasts for its downstream operations in the first quarter also weighed on the estimates, Gambardella said in a note.
Rolled Products
After-tax operating income for the engineered products unit will increase between zero and 5 percent in the first quarter from a year earlier, as foreign exchange pressures continue to weigh on profits, the company said yesterday. At the rolled products division, it will be flat year over year, excluding the effects of metal price and currency changes, Alcoa said.
Alcoa's rolled products division processes aluminum into spools of the metal to be used by manufacturers of products such as beverage cans, car parts and aircraft components. The engineered products segment uses aluminum and other metals to make forged and extruded products such as fasteners for aircraft and turbine blades used in jet engines and power plants.
Alcoa has in recent years sought to reposition itself as a metals engineering and manufacturing company, while reducing its exposure to the price of aluminum.
Smelter Cuts
Its $2.85 billion acquisition of aerospace supplier Firth Rixon Ltd., Alcoa's biggest deal in 16 years, helped the company expand into the production of components made from nickel-based superalloys and titanium.
As part of the company's transition, Alcoa has shut unprofitable aluminum smelters, curtailing or closing 22 percent of its production capacity over the past two years.
Such cuts helped support aluminum prices in the fourth quarter. Alcoa's third-party realized price averaged $2,578 a metric ton, up 20 percent from a year earlier.
It also enjoyed higher premiums, the surcharge that consumers pay on top of benchmark prices, because of extended waiting times for the delivery of metal out of warehouses. Premiums are expected to remain strong, Chief Financial Officer William Oplinger said on the call.
Despite the projected growth in worldwide demand, output is never far behind. Alcoa predicted 5.1 million tons of new output will be added this year, with 4.4 million tons in China.
While demand exceeds production, the deficit will narrow this year to just 38,000 tons, compared with 948,000 tons in
2014. There was a surplus in 2005 through 2013, according to data compiled by Bloomberg.
Alumina Surplus
As well as automotive and aerospace, Alcoa predicted growth in other aluminum end-use markets, with demand rising as much as 7 percent in construction. It also sees gains in gas turbines and in packaging, albeit at slower rates.
Alcoa also estimated that there will be a 2.92 million-ton surplus this year in the market for alumina, the raw material used to smelt aluminum and a commodity that the company also produces. It said the surplus in 2014 was 490,000 tons.
Alcoa doesn't give price forecasts. Aluminum gained 2.9 percent on the LME last year and was the ninth-best performer on the UBS Bloomberg CMCI Index. Prices may rise this year to an average of $2,057 a ton, according to the median of 23 analysts' estimates compiled by Bloomberg.
Metal for delivery in three months on the LME declined 0.6 percent to $1,799 a ton today.
Before it's here, it's on the Bloomberg Terminal.
LEARN MORE