The Best Luxury Cars at the Detroit Auto Show: Preview
By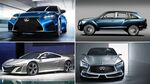 Detroit in January is not exactly glamorous. But the North American International Auto Show (a.k.a. Detroit Auto Show) is without question the most prestigious car show in the world.
It has long been the show automakers choose for their world debuts, premium product launches, and high-profile concept test beds. Thousands of members of the international press show up early each morning to meet with executives and network with their colleagues—and drool over cars. It opened to press this morning and the public can join in starting Jan. 17.
This year will be important.
In 2014 automakers sold 16.5 million cars in the United States—the most they've sold since 2006—and they're expecting 2015 to be even better. That is if consumer confidence, credit availability, and employment rates stay high. And, most importantly: if newly wealthy and young, first-time car buyers like what they see in Detroit.
More than 40 models are making their global debut, as well as dozens of national and regional splashes. A handful of concepts from the likes of Audi, Infiniti, and Bentley will also dot the convention center floor. Here are the standouts.
Jaguar SUV, Land Rover Diesel
The biggest news is Jaguar's F-PACE, an efficient five-seat crossover expected to go on sale in 2016. Jaguar has yet to release specific information about the engine and power of its brand-new model, but we expect it to be on par with the quality and performance of Jag's athletic F-Type coupe. On the show floor, Jaguar is showing a new 340hp V6 XE, a serious sport sedan that will compete with cars like the BMW 3-Series, Audi A4, and Mercedes-Benz C Class.
Concurrently, Jaguar's sister brand Land Rover is showcasing several new diesel engines in almost its entire line starting with the 2016 Range Rover and Range Rover Sport Td6.
Italian Updates
Maserati is showing off a concept Ermenegildo Zenga special-edition of its immensely popular Ghibli. Another beloved Italian brand, Alfa Romeo, has the 4C Spider.
German Luxury
Big news among the German brands includes the M6 Convertible, the 6-Series Grand Coupe, and 6-Series coupe from BMW. Mercedes is showing the first two models from the new, more-affordable Mercedes-AMG Sport line, the C450 AMG and the GLE450 sport crossover. We may also see that all-new 2016 Mercedes-Maybach S600 V12 sedan, which the brand has developed off the of the discontinued Maybach line.
Audi is debuting the all-new Q7 SUV and the eco-friendly Q3 PI concept. BMW Group-owned MINI will do the world premier of the new John Cooper Works hardtop, a tiny rally-tuned racer.

America and Asia
From Cadillac we're seeing the 2016 version of the CTS-V—that 600hp, Corvette engine-powered coupe will be their main focus—and Ford is showing a 500hp Mustang Shelby GT350.
Toyota-owned Lexus is showing its GS F V8 sedan (that'll compete against things like BMW's M5), while Honda-owned Acura has the new NSX, the 500-plus horsepower supercar fan boys have anticipated for years.

Surprises From Tesla, Bentley
There are still a few unknowns going into Detroit—Tesla, for instance.
The company said in 2013 that it would use the 2015 show to debut its affordable Model E, but recently the brand has been silent to confirm plans to show anything new. Representatives did not respond to requests for comment.
Bentley, too, has talked much about the SUV it debuted in 2012. A spokesman for the company said it would not bring the updated version to Detroit but that it would divulge further information on the model, which will start production in 2016.

Missing In Action
And, of course, the chicest of the auto brands don't attend Detroit at all—ironic, since the show is more renowned than the ones in Geneva and Paris, but it's true. At the most, one or two executives from the likes of Rolls-Royce, Aston Martin, and Ferrari will attend, but they won't show new cars there this year. The simple fact is that truly wealthy buyers just don't choose their next rides based on auto-show debuts.
After all, Detroit in January isn't for everyone.

Before it's here, it's on the Bloomberg Terminal.
LEARN MORE