Paul Ryan Says He Won't Run for President in 2016
"Sign me up for the Mitt mania," the Wisconsin representative has said.
By and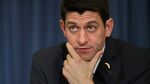 Wisconsin Representative Paul Ryan, Mitt Romney's running mate in the 2012 election, said Monday that he has ruled out running for president in 2012, NBC News reported. 
"I have decided that I am not going to run for president in 2016," Ryan said in a phone interview. 
"It is amazing the amount of encouragement I have gotten from people—from friends and supporters—but I feel like I am in a position to make a big difference where I am and I want to do that," Ryan added. 
In the new Congress, Ryan has assumed the chairmanship of the House Ways and Means Committee. Ryan did not specify who he might support for president from the crowded Republican field. 
"I think we've got a number of very capable candidates who have every ability to become president. There are a lot of talented people," Ryan told NBC. "I think it is critical that our party puts forward bold, conservative ideas and give people a choice. I think we have a number of capable leaders who can do that."
Ryan's decision comes as 2012 presidential nominee Mitt Romney is exploring another campaign, one that Ryan endorsed months ago.
"Sign me up for the Mitt mania," Ryan said on Bloomberg Television in August 2014. "I'd drive his bus if he asked me to."
Ryan, who was first elected to Congress in 1998, became chairman of the House Budget Committee in 2011 when Republicans gained the House majority.
He backs federal spending cuts and a plan to make Medicare a program in which retirees would get subsidies they could use to purchase insurance. Those ideas made him a political target for Democrats—one that got even bigger in 2012 when Romney picked him to join the Republican ticket.
But Ryan, 44, has also beenn critical of how the 2012 campaign was run, made clear that he still believes that his party offers the better choice for voters.  
"It's clear our country needs a change in direction. And our party has a responsibility to offer a real alternative. So I'm going to do what I can to lay out conservative solutions and to help our nominee lead us to victory."