Oregon's Rise to Football Power Boosts Business for Former Ducks
Michael Buteau and Eben Novy-Williams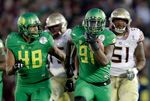 Inside a converted red brick schoolhouse on the edge of Atlanta's Piedmont Park is Fermata Partners, a 12-employee licensing company that's hoping tonight's national championship game is the start of a new kind of Duck dynasty.
Led by University of Oregon graduate Chris Prindiville, Derek Eiler and two other partners, Fermata is the official licensing company of the school's athletic department, including a football team that tonight seeks its first national title against Ohio State, which has been voted No. 1 four times in the Associated Press sportswriter poll.
Fermata's co-founders previously worked at IMG-owned Collegiate Licensing Co., a behemoth in the $4.6 billion industry, with more than 200 school clients, such as Alabama and Florida State, as well at the College Football Playoffs. Fermata made an immediate splash last year, signing Kentucky, Miami and Georgia away from their former employer, and when Oregon decided its athletics brand had outgrown the school's internal licensing division, Fermata made another addition.
"Big universities are moving toward the need to have more boutique service," Eiler said in an interview. "To have high-end folks with isolated thinking around consumer products. That's the niche that we're in. It's daunting, yes. But we're off to a good start."
Oregon is a fitting early client for Fermata. After a 25-year stretch without a bowl appearance ended in 1989, the Ducks slowly built a program that now rivals deeper-pocketed powerhouses like Ohio State and Florida State, which the Ducks beat 59-20 in this year's semifinals.
Phil Knight
Oregon has been in the Top 10 rank 13 of the 15 seasons since 2000, including a national title game berth after the 2010 season. Showcasing a high-powered offense and flashy Nike uniforms that change every game -- Nike Inc. founder Phil Knight is an alum -- the Oregon athletics brand has grown in step with its football success.
"A lot of things in college sports have always been a giant one-size-fits-all model," Athletic Director Rob Mullens said. "That's no longer the case. We see it in how our student athletes train, we see it in how our brand is forwarded by Nike, and you're going to see it now in our licensing. We want partners that understand the uniqueness of Oregon."
That need for a tailor-made approach is why Ohio State, whose athletics budget is about $150 million, manages its licensing internally with a full-time staff of five. AD Gene Smith said the Buckeyes-specific experience of his staff provides a comfort level that a third-party might not.
Licensing Revenue
A 2006 internal review also showed that the department was saving money with the in-house policy, Smith said. The Buckeyes generated about $14 million in gross licensing revenue last year, and netted more than $12 million of that total, he said.
"That's pretty doggone good compared to our peers across the country," Smith said in a telephone interview.
Oregon, with its campus in Eugene, generated $4.78 million in licensing revenue in the 2013-14 academic year, with $2.14 million of that total distributed to athletics. That was a 29 percent increase from the $1.66 million licensing share that the athletics department was given in 2012-13.
"We're no longer just a Northwest regional player," said Mullens, whose Oregon clothing has been recognized in recent years in downtown Hong Kong and London. "We've become an international player."
Fermata receives 10-15 percent of a school's gross royalties on sales of licensed product. Royalties are based on the wholesale price of products. For example, for each $20 ($10 wholesale) T-shirt sold, a school receives as much as $2, with Fermata taking in as much 30 cents.
Biggest Stage
Fermata licenses 375 different Oregon football-related products, ranging from the neon jerseys and hats to Lego-style figurines. About 75 companies have merchandise specifically planned for a potential Oregon national title.
The title game puts Fermata on its biggest stage so far. The semifinals Jan. 1 were the most watched shows in cable television history. Oregon-Florida State averaged 28.2 million viewers; Ohio-State-Alabama averaged 28.3 million, according to Walt Disney Co.'s ESPN.
The next few weeks also could provide a template for Fermata handling the college basketball finals in April. Kentucky is the nation's top-ranked and bookmakers are already concerned that they will have to pay bettors who wagered that they would go undefeated.
"We're probably the smallest fish, but we're making the most noise," Eiler said.
Even after losing three clients to Fermata, CLC signed or renewed 50 collegiate institutions in 2014. The company accomplished that by leveraging its size and scale, spokesman Andrew Giangola said.
``The average Big 5 conference school that partners with CLC sees its licensing revenues increase an average of 60 percent in the first two years,'' Giangola said in an e-mail. ``Having a critical mass of schools allows CLC to create impactful national retail marketing programs and exclusive retail intelligence for schools.''
Non-Compete Clauses
All four Fermata co-founders had to take two years away from the industry from 2012-2014 due to non-compete clauses in their CLC contracts. The company recently added Tottenham Hotspur, an English Premier League soccer club, to its roster.
"This is a group of highly qualified guys who come out of the monster that is CLC and struck some key initial deals with top-flight clients looking for something a little bit different," said Paul Swangard, managing director of Oregon's Warsaw Sports Marketing Center.
Prindiville, 40, came through the Warsaw program, as did Andy Koper, an Oregon business school graduate who in 2012 co-founded Hoot Case, a company that sells licensed mobile accessories like chargers and phone covers. Three years after Oregon gave Hoot Case its first collegiate license, the company now partners with the National Hockey League, National Basketball Association and about 50 colleges.
"When you get a marquee program like Oregon, it definitely puts a feather in your cap and helps the domino effect," Koper, 39, said in a telephone interview.
That Oregon's brand could have that effect was unlikely in the 1990s, when Prindiville said he used to walk into Ducks games at halftime, almost for free, and sit wherever he wanted. More than twenty years later, his three children know Oregon only as a powerhouse.
"If we don't go to the national championship next year, kids are going to be crying," he said. "That's the Oregon expectation now."
Before it's here, it's on the Bloomberg Terminal.
LEARN MORE