Earnest Says Not Sending Delegate to Paris Rally Was Mistake
Mike Dorning and Angela Greiling Keane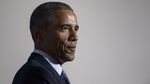 The Obama administration admitted it erred in not sending a top-level U.S. representative to a march in Paris for the victims of last week's terrorist attacks.
The White House faced a barrage of criticism from some Republicans and others because the highest-ranking American official at the rally on Sunday, which drew 3.7 million people and numerous world leaders, was the U.S. ambassador in Paris, Jane Hartley.
"It's fair to say we should have sent someone with a higher profile," White House press secretary Josh Earnest said Monday at a briefing in Washington. He refused to give any details about White House discussions on the rally, though he said President Barack Obama didn't make the decision on who would attend on behalf of the U.S.
Earnest's remarks were an unusual admission of error by the administration in dealing with an event that carried a high degree of symbolism and involved the oldest U.S. ally. He said the U.S. has worked closely with French authorities since the attacks. The Paris rally was held after three connected terror incidents in the city killed 17 people.
U.S. Attorney General Eric Holder was in Paris for an emergency meeting on counterterrorism with French officials but didn't take part in the march. Obama stayed at the White House through the weekend and Vice President Joe Biden was at his home in Delaware. Secretary of State John Kerry was in India.
Obama Critics
While French officials said they took no offense at the level of U.S. participation, American politicians and some news organizations ripped the administration.
"Our president should have been there," Republican Senator Ted Cruz of Texas, a potential 2016 presidential candidate, wrote in Time magazine online. "The absence is symbolic of the lack of American leadership on the world stage, and it is dangerous."
"You let the world down," New York's Daily News bannered across the front page, with photos of Obama and other key administration officials absent from the rally.
Republican Senator Marco Rubio of Florida, another possible 2016 candidate, said he understood that the president's attendance would be potentially disruptive.
"But Eric Holder was in Paris and maybe John Kerry should have gone or somebody else or a plethora of people they could have sent," he said on CBS's "This Morning" program. "I think in hindsight, I would hope that they would do it differently."
Security Burden
Earnest said the White House agreed. He called the march through the streets of Paris "a remarkable display" and said that Obama would have wanted to be there "had the circumstances been a little bit different." He said the security requirements for Obama or Biden would have been "onerous" and disrupted the event for those who participated.
Earnest repeatedly declined to say who was at fault and said the decision not to send a high-profile delegate didn't rise to the president's level. The blame rests squarely within the White House and not with another cabinet department or agency, he said.
Holder's spokesman, Brian Fallon, said the U.S. attorney general changed his schedule to travel to Paris "to personally express his solidarity with the people of France," and to attend a quickly called counterterrorism meeting on Sunday.
Holder's Return
"Though he had to return to Washington Sunday afternoon, he was proud to join the world leaders gathered in Paris at a summit convened" by French President Francois Hollande before the rally, Fallon said.
Kerry said the critics were "quibbling a little bit."
"The United States has been deeply engaged with the people of France since this occurred," Kerry told reporters in Gujarat, India. "We have offered from the first moment our intel" and help.
Kerry -- a French speaker with long ties to France -- had meetings with Prime Minister Narendra Modi of India and attended a business event, both in anticipation of Obama's visit to India later this month. He arrived in Pakistan on Monday for security talks and is scheduled to head to France on Thursday.
Gerard Araud, France's ambassador in Washington, said the French people have been overwhelmed by the show of solidarity from the U.S.
"To be very frank, the first impression we had is the support, expressed by President Obama," Araud said on MSNBC. He cited Kerry's speech in France last week and his plans to return this week. "So from the French side, there is absolutely no feeling, no hard feelings."