Nigeria's Oteh Leaves as Head of SEC After Five Years at Helm
Emele Onu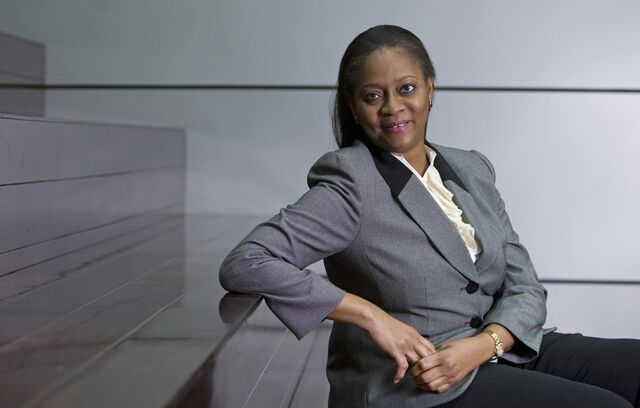 Arunma Oteh left her position as head of the Nigerian Securities and Exchange Commission after five years leading market regulation in Africa's biggest economy.
She left office on Jan. 7 and an acting director general will be appointed, Yakubu Olaleye, a spokesman for the Abuja-based agency, said by phone.
Under Oteh, the capital market "witnessed significant product innovation, improved listing rules, landmark bond-market reforms, the introduction of exchange-traded funds and widening of participation in the markets," the SEC said in a statement on its website.
Oteh became head of the regulator in January 2010 as the market recovered from a 2009 financial crisis triggered by loans given to stock speculators and fuel importers in Africa's biggest oil producer. The value of the bourse's main index reached a peak of more than 13 trillion naira ($72 billion) last year before tumbling to 9.45 billion naira on Jan. 9. Nigerian stocks slid the most in the world last week as crude prices tumbled below $50 a barrel.
Oteh didn't answer calls made to her mobile phone or return e-mailed requests for comment.
In June 2012, she was sent on "compulsory leave" while the SEC investigated allegations of mismanagement following an audit of spending on the market's 50th anniversary. She was recalled by President Goodluck Jonathan a month later after external audit didn't find illegal activities committed by her.
Oteh had created enemies by firing Ndi Okereke-Onyiuke as head of Nigerian Stock Exchange, saying the action was needed to curb "poor corporate governance," manipulation of the market and financial waste. She cited cases in which hundreds of Rolex watches were bought as gifts and 1.7 billion naira was shared among employees of the bourse.
In October 2013, Oteh said the stock exchange needs oil and gas, power and telecommunications companies to list to meet its goal of reaching a market value of $1 trillion by 2016. South Africa's FTSE/JSE Africa All Share Index market value of 9.57 trillion rand ($832 billion)
"She was in a hurry to see Nigeria achieve a world-class capital market that would drive development," the SEC said.
Before it's here, it's on the Bloomberg Terminal.
LEARN MORE