Kaisa Dollar Bonds Rally as Developer Gets Loan Default Waiver
David Yong and Christopher Langner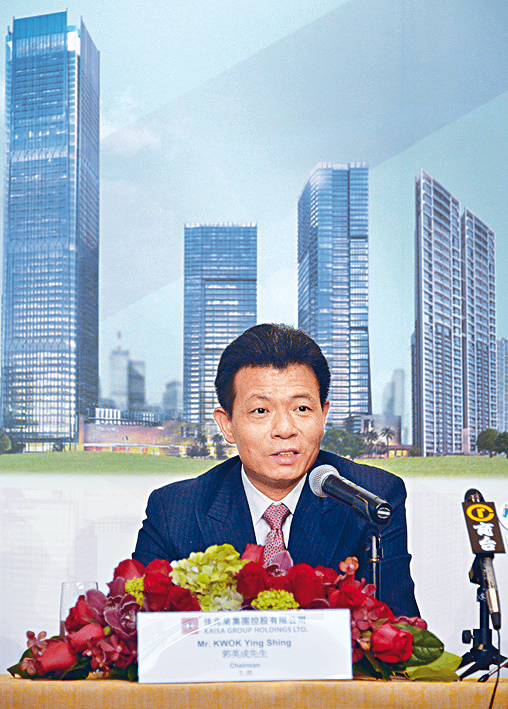 Kaisa Group Holdings Ltd.'s 2020 bonds rallied the most on record after the Chinese developer secured more time to repay a defaulted bank loan, reducing immediate cash needs as the company seeks to restructure debt.
Kaisa, whose default on a HSBC Holdings Plc loan last month spurred a selloff in China's high-yield bond market, said yesterday it got a waiver from the bank and is seeking a restructuring adviser. Kaisa's 10.25 percent notes jumped 6.3 cents to 40.2 cents on the dollar as of 6:50 p.m. in Hong Kong to the highest level in more than a week, even after the company said it missed a $23 million interest payment.
"The waiver from HSBC seems to have given offshore investors hope that the coupon may get paid within the grace period," said Charles Macgregor, the head of Asia high-yield research at Lucror Analytics, a Singapore-based independent credit researcher focused on high-yield markets. Kaisa has a 30-day period from Jan. 8 within which to make the coupon payment, according to CreditSights Inc.
While the HSBC waiver has relieved Kaisa's immediate payment pressures, some of its bank accounts are frozen and creditors are filing lawsuits in a bid to preserve the group's assets. Speculative-grade dollar notes sold by Chinese companies have lost 4.2 percent in 2015, the worst start to a year in a Bank of America Merrill Lynch index tracking some $42.4 billion of debt, amid concern other developers may suffer similar payment difficulties as the nation's real estate market cools.
Shenzhen-based Kaisa said in its Jan. 12 statement that because of the waiver, it was no longer required to immediately repay the loan. The Dec. 31 resignation of Chairman Kwok Ying Shing breached an agreement on the HK$400 million ($51.6 million) facility, tipping it into default.
Projects Blocked
Kaisa said in a Dec. 21 filing that presales at four projects in its home town of Shenzhen were blocked and hadn't received notification from authorities despite inquiries. The developer also said routine applications for licenses, permits and approvals for eight projects in the city hadn't been accepted.
China's housing market is slowing and its economy is cooling. Gross domestic product climbed 7.4 percent last year, the slowest expansion since 1990, economists project. While the People's Bank of China cut interest rates for the first time since 2012 last year to help support the real estate industry, new-home prices still fell in 67 of 70 cities in November.
Several of Kaisa's key executives apart from its chairman have also quit. Chief Financial Officer Cheung Hung Kwong and Vice Chairman Tam Lai Ling left last month and Joanne Mo, who was an investor relations executive, also departed.
Adviser Sought
Kaisa had 79.9 billion yuan ($12.9 billion) of liabilities on June 30, Bloomberg data show, including four dollar bonds with a face value of $1.95 billion. Its 105.6 billion yuan of assets included 9.4 billion yuan of cash.
"It looks like since the CFO has resigned they can't even track their own cash flow," Dilip Parameswaran, the head of Asia Investment Advisors Ltd., an independent advisory firm, said by phone today. "How much of the cash they had reported at the end of the first half which is still available is becoming a real question right now."
Kaisa is seeking a financial adviser to help restructure its debt, it said in its Jan. 12 statement. If it doesn't make the coupon payment on its 2020 bonds, it would be the first Chinese property company to default in the international dollar-denominated note market. Most investors expect Kaisa will pay within the 30-day grace period, two people familiar with the matter said yesterday.
Who's Next?
The builder of residential communities and shopping centers said it is discussing the adviser position "with several candidates, including international investment banking firms."
Law firm Kirkland & Ellis LLP has been hired to represent an ad hoc committee of Kaisa bondholders, a person familiar with the matter said today, asking not to be identified because the details are private.
"'Who's next?' is the question on everybody's lips and one which nobody has the answer to," CreditSights Singapore-based analysts Sandra Chow and Cheong Yin Chin wrote in a Jan. 13 note. "So every Chinese high-yield bond is now pricing in a greater chance of political or corporate governance risk than before. Many investors with bond positions in China are reassessing their portfolios."
Kaisa's $800 million of 8.875 percent notes due March 2018 rose 6 cents to 40.2 cents on the dollar. Its 2020 notes were sold to investors at par, or 100 cents on the dollar, in January 2013 and touched 29.901 cents on the dollar on Jan. 7.
Fresh Wave
"The sell-off has been brutal and indiscriminate," Chow and Cheong said. "Fear, rather than credit fundamentals, seems to be driving the market. Another Kaisa-like event could trigger a fresh wave of selling."
S&P reduced Kaisa's rating to "selective default" from BB- on Jan. 5 citing failure to repay the "relatively small" HSBC loan. The ratings company also said there was a "high likelihood" it will be unable to pay other obligations. Moody's cut Kaisa three levels to Caa3 with a negative outlook on the same day.
Kaisa said in its Jan. 12 statement that it had also received additional notices from creditors demanding immediate repayment. As of Jan. 9, "several bank accounts of the group were frozen and under investigation by several banks" with a total balance of about 447 million yuan ($72 million) and 266 million yuan.
Kaisa also said that as of Jan. 9, various applications in relation to the preservation of group assets had been filed by creditors. On Jan. 9, Kaisa said it received a civil ruling from a mainland China court in relation to the preservation of assets of a member of the group amounting to about 651.2 million yuan.
Shanghai AJ Trust & Investment Co. filed a lawsuit to Shanghai No.1 Intermediate People's Court demanding Kaisa's Hangzhou unit to pay back loans of 651.2 million yuan as well as interests and penalties, according to a statement from Shanghai AJ. The trial will start March 11.
Kaisa's stock will remain suspended from trade. The company's stock fell 47 percent in Hong Kong in December, its steepest monthly decline on record, before being suspended Dec. 29.
Kaisa will probably have to resort to using offshore cash to pay its coupon, Asia Investment Advisors' Parameswaran said. That's because if it wanted to use cash onshore to pay an offshore debt, it would first have to get approval from China's State Administration of Foreign Exchange, and that can take several weeks, he said.
Before it's here, it's on the Bloomberg Terminal.
LEARN MORE