Mystery Cialis-Viagra Concoction From Australia Banned by FDA
Anna Edney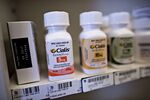 A batch of Cialis pills, purportedly made at a plant in Australia, were banned from entering the U.S. after they were found to contain the active ingredient for rival erectile-dysfunction drug Viagra.
The U.S. Food and Drug Administration said the combination would represent an unapproved new drug. It didn't say what such a hybrid medication would do to the human body.
Also a mystery: Who made the medicine. The FDA said the tablets -- which included Cialis's active ingredient, tadalafil, and Viagra's, sildenafil -- were from an Eli Lilly & Co. plant in the Sydney suburb of West Ryde. Yet the company said it doesn't operate a manufacturing site in Australia, and any Cialis product claiming to be from that country is a fake.
"Based on information in this import alert, this appears to be a counterfeit version of Cialis," Eli Lilly said in a statement. Erectile dysfunction drugs are among the most frequently counterfeited medications, and people shouldn't take the knockoffs anyway because they can be toxic, the company said.
A spokesman for Pfizer Inc., which makes Viagra, didn't immediately comment on the FDA's action. FDA press officials didn't immediately respond to requests for further information on the plant in Australia. Lilly's Australia division is run out of the same address FDA put on the import alert, according to the company's website.
Cialis generated an estimated $2.3 billion in sales for Lilly last year, according to data compiled by Bloomberg.
Before it's here, it's on the Bloomberg Terminal.
LEARN MORE